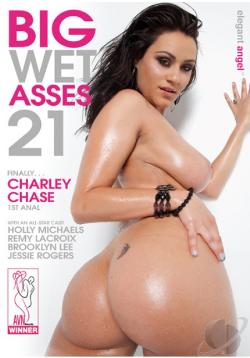 When we shared the news of Charley Chase's impending anal debut back almost a month ago to the day, all of us here at Mr. Pink's knew the scene in question would be quality. After all, there are few pornstars as obviously in love with their work as Charley Chase. Watching her slide a ten-inch dick down her throat and manage a smile as she drools all over her own tits has been a marvel. Seeing her ride a parade of guys with more energy, consistency, and pure sexual power than any of her contemporaries (save perhaps for Asa Akira), has been a genuine treat in an industry so often regarded as humiliating, debasing, and misogynist. Charley Chase clearly loves her work, but the long lead up to her anal debut and the numerous setbacks she spoke of on her blog started to give us all reasons to think it'd never happen. Then the announcement came from Elegant Angel that Charley would not only open her previously unplundered rear passage in Big Wet Asses #21, she'd also grace the cover. Anticipation, dear reader, hit feverish new heights.
It would clearly be best for all concerned if you hustled over to Elegant Angel and caught a glimpse of Charley's asshole in action, but let me tell you right now that it was absolutely worth the wait. Paired with Manuel Ferrara, who can only be called a master of anal inductions, Charley set the pace by leaping on top of the Frenchman, butt plug already firmly in place, and making out like a nympho in heat. Ferrara starts slapping her ass before Charley pulls back and lays one of her signature deepthroats on him. She looks up and establishes the magnificent eye contact the two maintain throughout the scene then tells Ferrara, "Your cock is mine. For whatever I want, wherever I want." I won't blame you if you don't make it past this point, but what follows is not just one of the hottest and most authentic sex scenes of the year thus far, anal or otherwise, but easily Charley's most voraciously carnal scene and quite possibly one of the greatest butt-fuck extravaganzas since the advent of Internet porn. Hyperbole, be damned!
Still need convincing? Any scene that sees Charley Chase go from the glamorous model with bedroom eyes to the quivering, sweating, panting pile of spent sexual energy you see below is more than a worthwhile viewing, it's downright essential.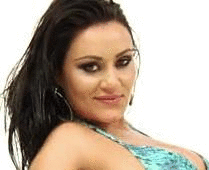 Now, Charley just has to fulfill her promise to bring plenty more anal to her official website, where I'm sure fans are already salivating in anticipation. Hell, Charley probably is, too!