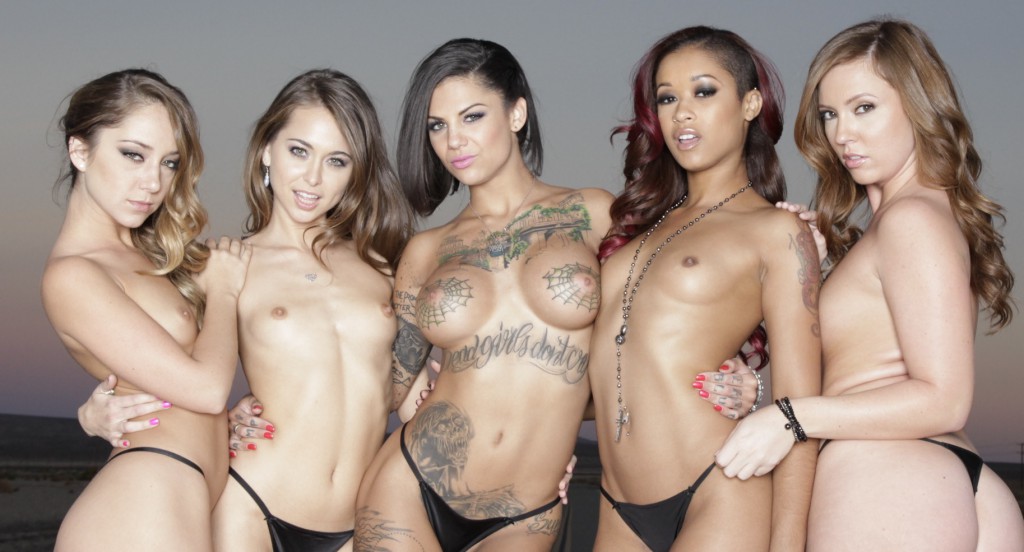 Every year, at the end of every year, one of US porn's most prominent and respected studios, Elegant Angel, releases its Performers of the Year DVD. Gathering together the most dazzling performers of the past twelve months, Performers of the Year 2014 sees Maddy O'Reilly, Riley Reid, Remy LaCroix, Bonnie Rotten, and 2013 AVN Female Performer of the Year Skin Diamond for six scenes of hardcore thrills above and beyond the level of most adult endeavors seen in 2013. A directorial collaboration between Toni Ribas, Carlos Dee, Mimefreak and Elegant Angel's latest superstar director, Asa Akira, herself a three-time featured Performer of the Year.
"Waitasecond," you interject, "six scenes? But there's only five girls!" Well, on the latest Elegant Angel podcast, Veruca James regales the hosts with a story about shooting a scene for the release with Riley Reid. Something of a bonus two-girl treat in an otherwise hetero-only fuckfest, the scene had Toni Ribas struggling to keep his two stars in line. After spending all day flirting and working themselves up, Riley and Veruca were disappointed to discover their director only wanted one of them to lap at the other's pussy; Veruca would get Riley off but wouldn't get off herself. Furious, they stood together and insisted that they both deserved some relief. Faced with two lingerie-clad beauties foaming at the mouth and clawing at each other, Ribas relented. Veruca's unsure whether her orgasm will be included in the final cut, but either way it's clear she's as excited for its release as, well, basically every porn fan on the planet.
A street date for Performers of the Year 2014 will be released soon from Elegant Angel.