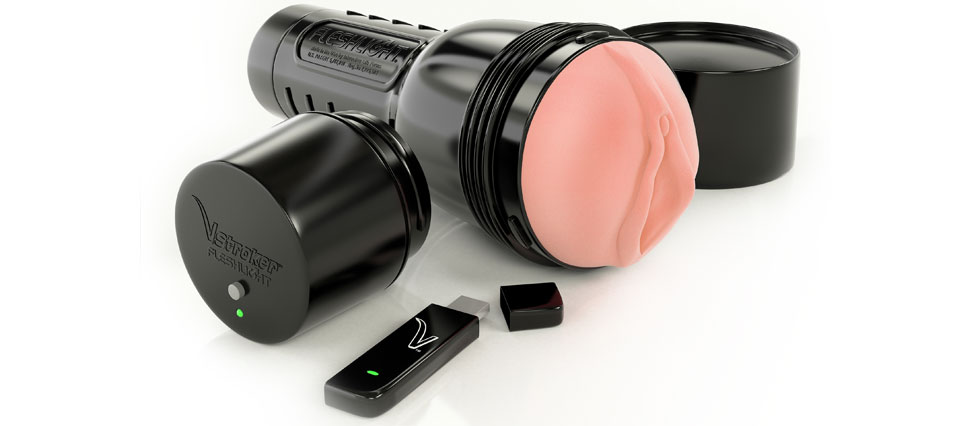 Fleshlight, the company that brought you molded masturbator sheaths in the shape of the pussies of pornstars Asa Akira, Tori Black, Lisa Ann, Jesse Jane, Jessica Drake and others, has upped the game once again by introducing Vstroker, a customizable, reactive attachment that fits any Fleshlight and puts you on a pleasure plane high above anything you've ever tried before.
A definite challenge to the interactive RealTouch device, which reacts to onscreen action, tightening its grip and increasing the pace of its contractions as the scene on your computer screen heats up, Vstroker instead puts you, not the video you're watching, in charge of your artificially amplified beating off. With a motion sensor attachment and a wireless USB connector bridging the physical gap between your PC and your dick, Vstroker monitors the speed and ferocity of your thrusting and either speeds up or slows down the onscreen hardcore action to suit your pace.
With Fleshlight Girls Misty Stone and Asa Akira already providing tailor-made interactive video content that lets you fuck their mouths, pussies, and asses however you please, Vstroker is certainly off to a strong start. Can it wrangle domination of the interactive masturbator market from the soon-to-be-reviewed-by-yours-truly Real Touch, though? Would you prefer to sit back, enter your chosen orifice and let the girl take control of your pleasure or are you determined to do it your own way? Whatever your preference, it's clear the future of interactive cyber sex is landing on the doorsteps of horny porn fan, wrapped discreetly in brown paper, right fucking now. This is the future we've been waiting for!