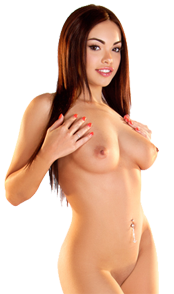 While I don't have enough excess room in my abode to create my own personal man-cave, I'm sure plenty of you reading this not only have the room, but have the inclination, the wherewithal, and the desire to carve yourself a homey little hovel filled with trinkets and memorabilia, perhaps a pool table, a few lava lamps, and a makeshift bar with ample liquor in constant stock. Go ahead, bro, knock yourself out with the most badass man-cave you can imagine, but it still won't be complete without one very special item: a fucking pornstar wall decal!
The company, AdultDecalz (the "#1 selling adult decal"!),  is now adorning men's walls with saucy yet refined images of their favorite adult models and performers. AdultDecalz moves into exciting new territory, striking deals with three of porn's most esteemed studios, Digital Playground, Naughty America, and Evil Angel, with others reportedly to come. Fancy gussying up your den, pool room, or other such hideout with the likes of Madison Ivy, Jessie Jane, Kayden Kross, Selena Rose, Lisa Ann, Esperanza Gomez, and Asa Akira? Well, short of kidnapping the real thing and imprisoning your chosen starlet in some kind of wall-mounted bondage rack*, this is as close as you're gonna get. Imagine lining up a YouTube-inspired, heavily rehearsed trick shot and challenging your buddy with the same – there's no way he'll be able to compete with Kayden Kross's ass staring him down. You pot everything else, then the black, and win. He goes home. You stare at your killer pornstar decal in privatorum, you dig?
*Mr. Pink's cannot and does not condone or encourage this course of action, no matter how appealing it may seem on paper.