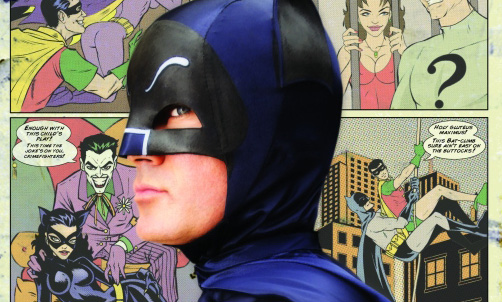 Known by many names – Bruce Wayne, The Caped Crusader, The Dark Knight – the superhero most know as Batman was created 75 years ago this week by Bob Kane and Bill Finger. With the roaring success of Christopher Nolan's acclaimed Dark Knight movie trilogy only just winding down, it seems an appropriate time to investigate other arenas in which to see Batman tussle with trouble. Yes, even if some of those arenas are inappropriate for the young'uns. Oh, you're all miffed about the corruption and perversion of an iconic character of fiction? Don't blame me, dude, blame Axel Braun.
Arguably the first and most influential adult film to combine a contemporary take on classic superheroes with explicit sexual activity, Axel Braun's 2010 feature, Batman XXX: A Porn Parody put Dale DaBone in the grey, black, and blue duds and cast then up-and-comer James Deen as Robin, Lexi Belle as Batgirl, Tori Black as Catwoman, Evan Stone as The Riddler, and Randy Spears as The Joker. Cleanly directed by Braun with a heavy dose of ironic humor, the Vivid release saw much success and brought more comic book fans to porn than 1970s Lois Lane, Margot Kidder appearing in Playboy. Soon, superhero porn parodies were flooding the market and Batman remained chief pussy-pounder among the heroes now dropping their drawers for your entertainment.
BatFXXX: Dark Knight Parody came along shortly after Braun's feature, directed by NIcholas Steele for Bluebird Films and starring Nick "Droppin' loads!" Manning as the titular cape-wearer, Madelyn Marie as Katwoman, and Krissy Lynn as a female Robin named "Robina." Also in 2011, Extreme Comixxx released The Justice League of Porn Star Heroes XXX, which saw Evan Stone, who'd previously played one of Batman's arch nemeses, now picking up the mantle with glee. Battling an evil threat to the very existence of porn itself, the intrepid team of heroes ends the picture draining their, uh, "powers" all over Wonder Woman for a truly childhood-destroying climax.
Braun brought it all back home to Vivid in 2012 – or, more specifically, to the company's new Braun-directed line of comic book parodies, Vivid Superheroes – with The Dark Knight XXX: A Porn Parody, his take on Christopher Nolan's dark and brooding Batman trilogy. This time with some thoroughly impressive costuming and special effects, and with Giovanni Francesco the latest actor to portray Kane and Finger's globally famous vigilante, saw the biggest and boldest comic book parody yet. It was also less a traditional parody and more an explicit re-imagining of the recent blockbuster films, ditching the humor and instead aiming for high drama with hardcore fucking, spinal mutilation, bizarre appearances from Zatana and John Constantine, and villain Bane (Derrick Pierce) seemingly breaking Batman and making off with the tightest of his many squeezes.
With Batman v Superman: Dawn of Justice due to arrive in theaters in May of 2016, we'll likely see a couple of hardcore parodies of DC's two biggest heroes hit the real and virtual shelves in the lead up to its release. And this time, whoever is cast as Batman is only going up against Ben Affleck, so they've probably already secured the fan's allegiance and should coast to monumental sales. Me, I just want to see a porn version of Mister (or even Miss) Mxyzptlk. Make it happen, Braun!
Oh yeah, and happy birthday, Batman.