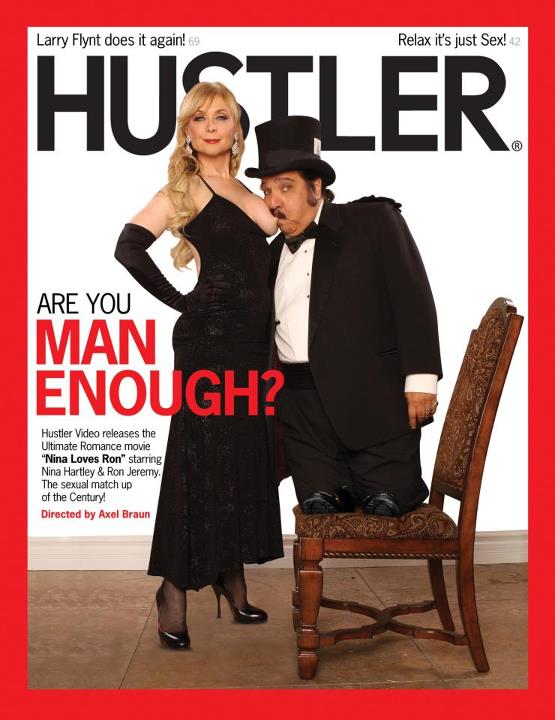 Ask any porn fan who the most acclaimed and respected living legends of the adult industry are, one of either sex, and you'll no doubt have the names Nina Hartley and Ron Jeremy tossed your way. Now, after a combined 62 years of onscreen experience, these two legends have been paired together in a new feature from Hustler, entitled Nina Loves Ron.
A satire of modern dating rituals, Nina Loves Ron sees the two infamous pornstars, entrepreneurs, crossover icons, and free speech advocates reunite under the direction of Axel Braun. With all new scenes featuring, according to AVN, "the trials of online dating, the first tentative steps of budding love, and (of course) sex," the DVD, available from July 31st, also packs in a handful of the two superstars' most sizzling scenes, scenes co-starring such other porno legends as Tom Byron, Renee Morgan, and Crystal Wilder.
Although no doubt an irreverent look at romance in the digital age, Nina Loves Ron also promises to deliver the righteous fucking with a (dare I say) romantic touch; so much so that Hustler is touting it as "the Ultimate Romance movie." At their respective ages of 59 and 53, Ron and Nina are some of the oldest performers still throwing their bodies before a camera and delivering memorable sex. The combination of these two middle-aged is sure to be a turn-off for those viewers who refuse to even bother with MILF porn, let alone hardcore scenes starring almost-sixty-year-olds, but those of us who are perfectly comfortable with people older than ourselves having and indeed needing an active, exciting sex life will no doubt be thrilled at this illustrious pairing.
While exact details of the release are still under wraps, this teaser image from Hustler's Facebook page suggests the two hardcore legends have delivered fun, lively performances. Are there any other similarly aged performers still in the business, let alone cool and comfortable enough to poke fun not only at themselves, but at the industry that spawned their celebrity and the very idea of dating (and fucking) through one's fifties and into one's sixties? No, there isn't, which is why Nina Hartley and Ron Jeremy are as close as pornstars come to being national treasures.