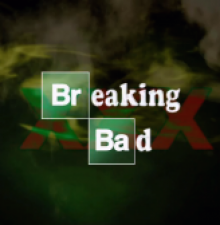 Being a relatively minor player in the porn parody game hasn't stopped Sweet Mess Films from tackling a critically acclaimed, almost universally revered television show that has been personally one of the greatest television shows I have ever seen – and the company has landed some top talent, too, with Lexi Belle, Tasha Reign, Brandy Aniston, and Presidential write-in candidate Ron Jeremy all nabbing roles. The title? Breaking Bad XXX: A Sweet Mess Films Parody.
Rodney Moore, an AVN Hall of Fame luminary and keen observer of the state of the adult industry, wrote the script to this, the first Breaking Bad porn parody, as a commentary on the looming threat Measure B held over the porn world, but he and director David Lord have managed to infuse the movie with plenty of laughs and libidinous activity, too, according to Jerry E., owner of distributor Exquisite Films. "Rodney Moore and David Lord have created a fantastic movie, which is as funny and sexy as it is politically charged," E. said.
The plot sees Walt (Alec Knight), a university film studies professor diagnosed with terminal cancer and, worse, erectile disfunction, take California's recent laws outlawing pornography production, distribution, and consumption and the banning of sexual enhancement drugs to heart. Armed with nothing but his wits, grounding in film theory, and a film student cum pornstar sidekick, Walt sets about rectifying the dismal state of sexual commerce stifling California's collective libido.
Everyone – and I do mean everyone; at least, everyone I've ever discussed it with – seems to rave about Breaking Bad, and with Sweet Mess and Exquisite films gathering parody-fueled popularity after an hilarious take on The Addams Family, Breaking Bad XXX has a huge built-in audience and will likely be the only take on this phenomenally successful pop-culture property that I'll bother with.
Breaking Bad XXX: A Sweet Mess Films Parody is out now and stars Alec Knight, Lexi Belle, Tasha Reign, Brandy Aniston, Kimberly Kane, Chanel Preston, Andy San Dimas, Eric Masterson, Steven St. Croix, Derrick Pierce, James Bartholet, and Ron Jeremy.