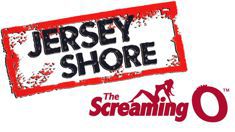 Every Thursday night a rapidly declining percentage of the population of the United States tunes in to MTV for another rage-inducing episode of Jersey Shore, the reality show phenomenon that dumps four "guidos" and four "guidettes" into a share house off the boardwalk of the New Jersey shore and follows them as they drink, dance, and argue their way through another summer. Me, I've got a soft spot for the house newest resident, Deena, the self-described "blast in a glass," who constantly seems to be unlucky in both love and lust while her roommates "get it in" on a near-nightly basis. Those in committed relationships, as absurd as that may seem, don't seem to mind rubbing their sexual proclivities in Deena's face, which is exactly what Jenni "JWOWW" Farley did on the most recent episode, The Truth Will Set You Free.
Intent on celebrating her one-year anniversary with muscle-bound boyfriend, Roger, with a night-long romp in the house "smoosh room" (where roommates takes their latest sexual conquests for a bit of privacy), JWOWW dragged her BFF (and America's punching bag) Snooki to an adult novelty store and stocked up on supplies. Bringing home fake rose petals, bottles of Gatorade, fluffy pink handcuffs, and a Clone-a-Willy kit with which to immortalize Roger's manhood, JWOWW was ensuring that her man's jaw would be dragging along the presumably filthy shore house floor all the way to sexual heaven. Two key components of JWOWW's seductive arsenal were The Screaming O Vibrating Ring and its big brother, The Big O, both of which are award-winning vibrating cock-rings designed to enhance pleasure for both partners when worn at the base of Rog… uh, "the man's" erection.
These two most important items in her carnal armory we both snatched from a small red-and-white counter display and the company responsible for them, The Screaming O, seems mighty proud to be so blatantly featured on the show. "We're glad we made it a special night for them," The Screaming O's Keith Caggiano told AVN. "The Screaming O helps couples stay connected , and since JWOWW and her boyfriend can't see each other every day using our relationship tools and fun sexessories will surely keep things interesting." Ah, "relationship tools," is that what they're called by folks in the know?