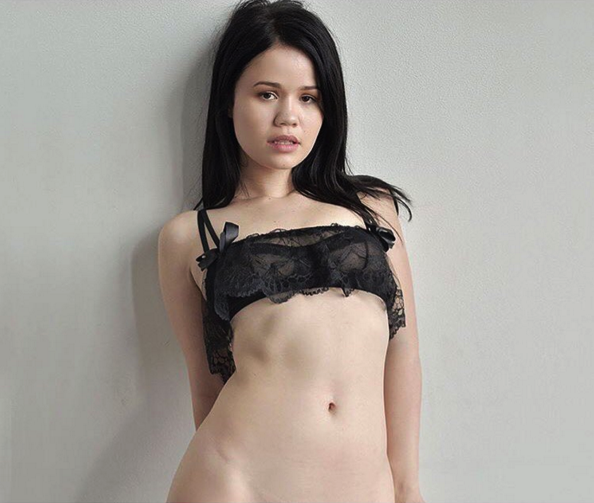 Mononymous German/Irish/Mexican pornstar Yhivi burst onto the scene back in 2014 with a scene for then-superstar James Deen's official website, immediately showing off her fondness for anal sex, spitting, and slapping. Talk about a first impression! Soon booked to shoot for every major adult studio and plenty of smaller independent outfits, Yhivi quickly extraordinarily popular and it's easy to see why: a glowingly sex-positive attitude, a deviant mind, supreme saliva production, and a love of all things anal. Hey, it didn't hurt that most people (accurately) took her for something of an artist, intellectual, pop-culture nerd either. After much success in the middle echelons of porn, Yhivi is about to step forward in her own showcase movie directed by Aiden Riley, Yhivi Does it.
Arriving through Evil Angel and Belladonna Productions on August 24, Yhivi Does It details the enormous array of kinky things the 5'1″ deviant enjoys doing on screen. From a one-on-one lesbian encounter with Ella Nova in a kitchen filled with phallic flirt and vegetables put to kinky use to the final curious DP scene with Mark Wood and Bill Bailey, the breadth of Yhivi's desire is plainly evident. And, thanks to masterful direction from Riley, it all comes off as little more than a peek into the everyday sexual habits of one of porn's most genuinely exciting young stars.
The six-hour feature also shows Yhivi having her ass filled by monster Markus Dupree and blow-banged by a class of wood working students eager to collectively food her filthy mouth with spooge. Constantly grinning with glee and even managing a giggle while her throat fills with dick and fingers fill her other holes to capacity, Yhivi is set to charm your pants off and have your eyes glued to her (pretty damn compelling) Tumblr for any little Yhivi tidbits she sees fit to toss your way.
Yhivi Does It is released to DVD and VOD August 24th through Evil Angel and Belladonna Entertainment.