Unless you're devoutly asexual and keep yourself as removed from popular culture as possible – in which case, what the fuck are you doing reading my blog? – you'd be aware that erotic literary sensation, the 50 Shades of Grey trilogy, eventually did make it to the big screen and did cause some controversy upon its release. Now that the hubbub has mostly subsided and audiences are seeing 50 Shades for the safely lukewarm wade through BDSM's often tumultuous waters that it is, there's GirlsWay's newest feature production to take the 50 Shades premise and run with it. Only this time, there's no stoic and emotionally inaccessible corporate executive to do the spanking. Instead, it's GirlsWay's most acclaimed all-girl performers.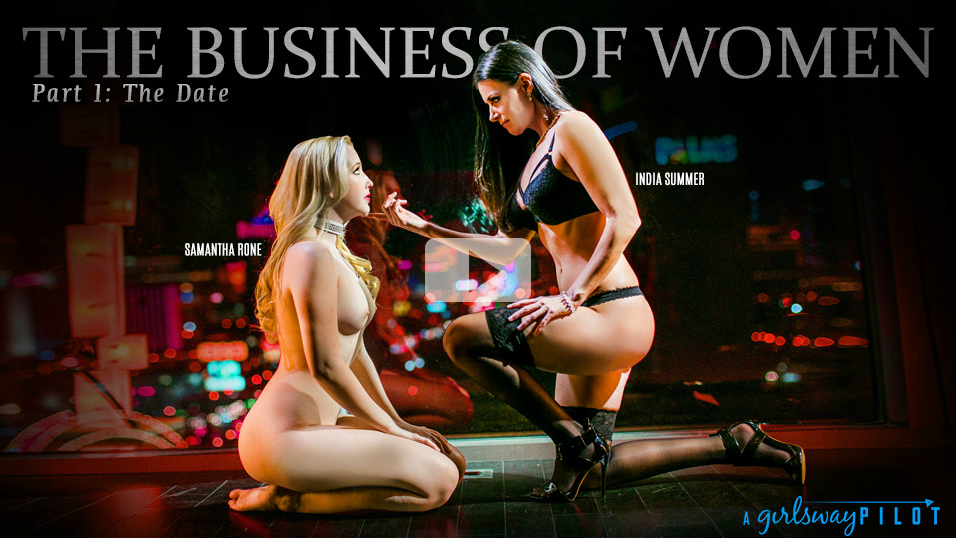 Launching its six-part feature series in early May and recently adding its third episode, GirlsWay takes 50 Shades into hardcore lesbian porn territory and brings India Summer, Charlotte Stokely, Shyla Jennings, and Vanessa Veracruz along for what is already proving to be a risque, if not wild ride. Recasting the original novel's dominating Christian Grey with one of porn's most intimidating veterans, India Summer, and casting fresh-faced Samantha Rone as his submissive new employee, GirlsWay flips around a predictable situation. Rone plays a call-girl whose life isn't as luxurious or rewarding as she'd hope. One last date changes all that when Rone walks into the office of Summer, who immediately lays down the law: her word is law and any disobeying will be dealt with harshly. Taking the young pro into her inner sanctum and, after consummating their sizzling sexual tension, going so far as to invite Rone to be her obedient little slut-seducing machine, Summer's complete control of her lackey is evident.
Chapter Two, Homecoming, sees Charlotte Stokely enter the picture playing Summer's assistant. By no means the boss, Stokely still demands obedience from Rone and humiliates her before her new boss and lover. Stokely's revenge unfolds, however, and sees Rone dealing with the prospect that she, like four other women before her, could wind up mysteriously disappearing after Summer gets through with her. Upsetting her boss, Stokely's antics earn her and Rone a disciplinary lesson they won't soon forget.
The latest installment of the sexually scorching and photographically lustrous GirlsWay series, The Secret, sees Summer's former sub Vanessa Veracruz plotting her revenge after being cruelly dismissed. But what role does Abigail Mac play and just how dangerous will Veracruz prove to be? Fuck, man, we need answers and we're being made to wait for them!
The Business of Women, Part Four: Taking the Bait is due for release on the GirlsWay network June 29th with two more chapters to follow in July.