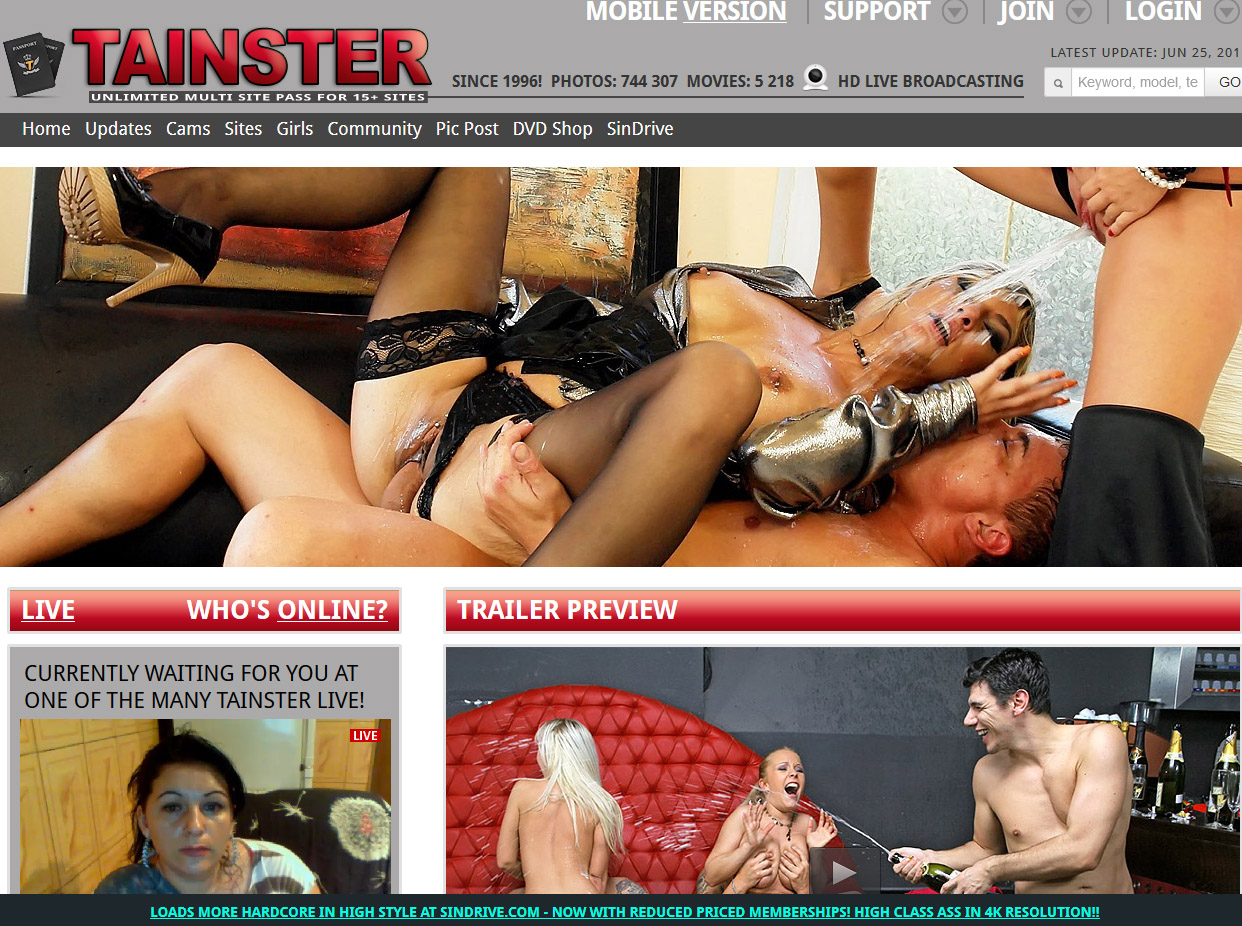 You might be into the most revolting, stomach turning shit, the kind of sexual activity that's more akin to studies of aberrant wildlife behavior or conceptual art. Whatever you're into, you can rest assured Mr. Pink's has you, your wallet, and your self-applied sexual gratification under control. In short, dear reader, there is a bargain-priced site for you – yes, even you into fully-clothed watersports.
Tainster, a network of some sixteen hardcore sites running the gamut of decadent, hedonistic filth-mongering, now offers a discount to prospective members that'll see them slash the standard $24.99 monthly membership fee, rendering this already affordable niche network a curiosity any serious porn fan will want to investigate further. And, priced at $19.99, now's your chance.
One month inside Tainster opens up more than a dozen sites dealing in messy fetish porn of a few varieties. Party Hardcore, Drunk Sex Orgy, Mad Sex Party, and Party Softcore host elaborate nightclub revelries that see a throng of sexy women get liquored up and lascivious, gyrating on anyone near then turning to each other and any waiting dick for some hardcore action. (Well, Party Softcore tones it down a bit.) Slime Wave and All WAM deal in women who smear and cover themselves with creams, gels, and other messy stuff, while Fully Clothed Pissing, French Pee, Pissing in Action, and Pee Squad are all about… yup, pissing. Fully Clothed Sex and My Fetish showcase women fucking in form-fitting shiny outfits. UK Handjobs is what it says it is, as is Pornstars at Home and Quest for Orgasm, while Orgasmatics focuses on toy and tool-aided female masturbation.
THE MATH:
Tallying up the totals of each site's scene count brings us to the total number of episodes to be found under the Tainster marquee, everything you'll have access to once a member. And, let me tell you, the 4,943 Tainster scenes currently online make a huge archive of highly varied fetish porn that doesn't just retread the same dark-and-dirty BDSM bullshit as everyone else. At $19.99, each individual Tainster scene comes to a cost of just .005¢ – of, if you like, 247 for $1. Find me another adult network offering both a discount this good and hardcore porn this weird and wild, and I'll eat my hat, folks. (Or piss on it, whatever you prefer.)