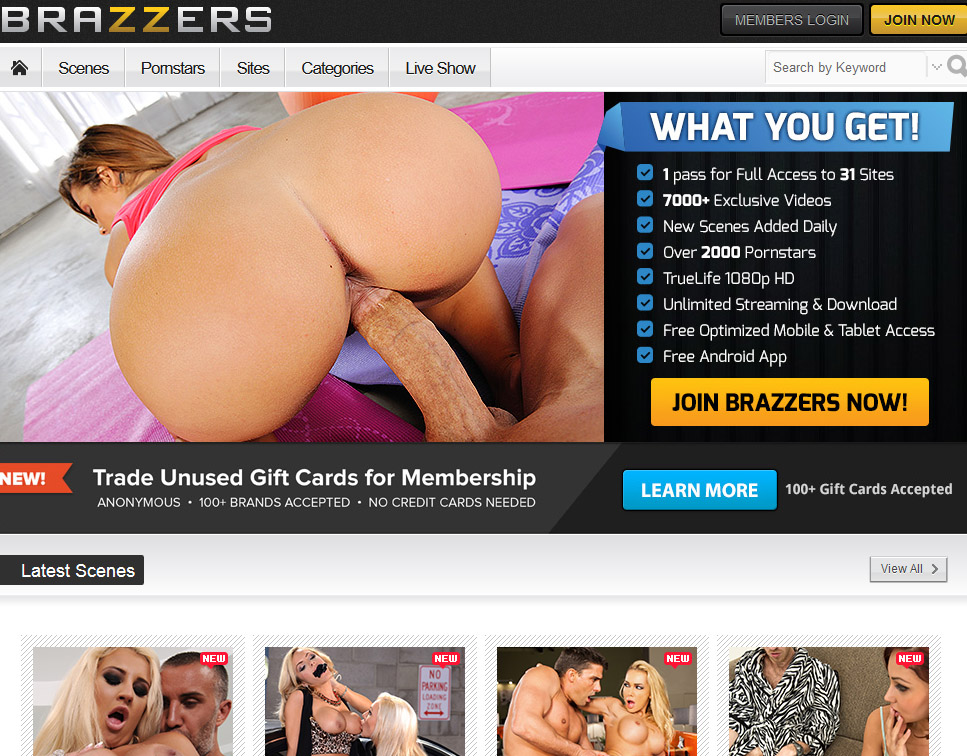 There it was emblazoned across the bottom of a picture of Keisha Grey's bountiful ass on the homepage at Brazzers HQ: "Trade Unused Gift Cards for Membership." My jaw dropped. Could Brazzers really be telling me there's a use for all those Starbucks and Target and Best Buy and (ugh) Marshalls gift cards my family members indifferently toss at me come Christmastime? Considering the ZZ sign-up process now includes the option to pay in the virtual currencies issued by everyone from Adidas and Aeropostale to Urban Outfitters, Victoria's Secret, and even Wal-Mart and palmed off as thoughtless presents by pretty much everyone, I'd say that's affirmative, wouldn't you?
Brazzers opened this new avenue of payment in early January and has been Tweetin' the news to its ten gazillion followers thusly:
Step 1: Take unwanted giftcards. Step 2: use them to buy a Brazzers membership. Step 3: Jerk off. http://t.co/xVxrFczXCt

— Brazzers (@Brazzers) February 2, 2014
When it comes to alternative methods of payment, the ZZ has some competition, though, as Naughty America recently announced that it would be accepting new members paying with bank checks and the controversial decentralized crypto-currency Bitcoin. With Bitcoin thrust under the nose of the CIA, the FBI, the DEA, the ATF (all the acronyms, really) due to deep-web markets like Silk Road, perhaps that seemingly useless stack of gift cards is indeed the wisest path of alternative porn-site payment. Brazzers assures its members the whole process will be painless and, aside from not getting the exact monetary value of the gift card in question, you'll probably find it so. If you've got a $25 Starbucks card laying around, that'll get you 16 days of access; a $200 Best Buy gift card earns you an insane 608 days of access!
And, bless 'em, the Brazzers team has made the whole transaction anonymous so you'll never have to 'fess up and admit to your dear old mother that the Williams-Sonoma gift card she gleefully presented you and your then-girlfriend with all those months ago didn't make it anywhere near a Williams-Sonoma store and instead was used to ensure you wouldn't have to miss Madison Ivy's hotly anticipated, much ballyhooed upcoming anal debut right here at Brazzers. Whew.