Former pornstar and current… (what, red carpet walker and cameo role shooter?) Whatever she does for a living these days (an erotic novel, seriously?), Sasha Grey hasn't shot porn since 2011 and therefore hasn't been genuinely worthy of a porn industry headline in almost four years. Why, then, did Sasha pop up in news feeds around the world last week?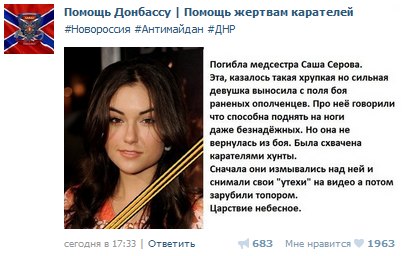 Major news outlets last week reported that Grey's name and likeness had been appropriated by the propaganda machine lending support to Pro-Russian Separatists in eastern Ukraine, who had claimed in a social media post that the AVN Winner had died on the front lines of the current conflict. As detailed by the Moscow Times, the story told features a nurse named 'Sasha Serova' [Serova is similar to the Russian word for 'grey'] who was "captured by Ukrainian military forces, who then filmed themselves 'humiliating' her before chopping her body up with an axe." Grey, not known for shying away from controversial topics, quickly addressed the rumors on Twitter:
I <3 my Russian fans, but this propaganda takes it too far. News that I was a NURSE killed in the Russian/Ukraine conflict. #fuckpropoganda

— Sasha Grey (@SashaGrey) February 18, 2015
That's it, folks! The very same woman a Rolling Stone profiler called "the smartest person I've ever met in the industry" has declared the Ukrainian conflict, like, all crapped out 'cause people are lying about her on the Internet. Had Ms. Grey waited a few days before Tweeting, she could've saved herself the embarrassment of placing the blame squarely on the wrong shoulders. And, who knows, perhaps she might've even reconsidered calling the incident "propaganda" – since, you know, it turns out it wasn't.
Global Voices Online, among others, saw through the veil of irony and uncovered a plot by users of 2ch.hk  aimed at exposing the insipid gullibility of vatniks (supporters of Ukrainian Pro-Russian Separatists) with a very common and much loved tool: the troll quote. Made by placing a quote or factoid over the image of an unrelated pop culture icon to (intentionally) erroneously conflate the two, the troll quote meme has caused many white-knuckled imbeciles to fly into a rage spiral on 4chan and Reddit. This time, however, the trolling didn't stop at the intended victim, spreading to the US media and Ms. Grey herself, who both seemed to interpret the alleged Russian propaganda as genuine and not the witty work of Ukrainian meme-mongers with only political satire in mind.