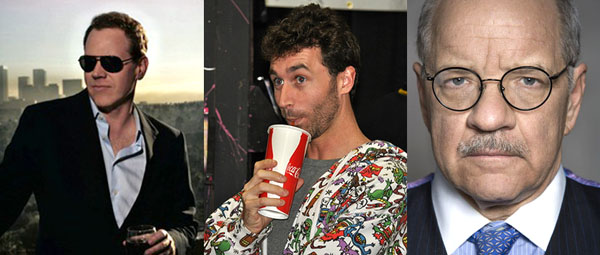 In all my years as a sexually active heterosexual male, I have only twice occasioned to obtain biblical knowledge of a partner who held more than a vague curiosity in the pornographic arts. One of these women had numerous sexual problems – anorgasmia, bouts of frigidity, "Daddy issues", and compulsive self-degradation – while the other was the polar opposite. Able to orgasm almost at will, this woman – we'll call her Miss. B – enjoyed watching porn by herself, with friends, with lovers, and pretty much whenever she was mildly bored and slightly horny. I discovered this not by her asking me to watch porn with her, but because of a flippant remark she made regarding my alleged resemblance to her favorite pornstar, Mr. James Deen.
Widely regarded as one of the most likable dudes in porn, James Deen, a 27-year-old native of Pasadena, has been lighting up the skin-filled screen for nearly eight years, appearing in a reported 2000 films. In that time he has not only filled the mouths, pussies, and assholes of porn's most popular women, but charmed his way into the hearts of a legion of female fans. So famously endearing, Deen even attracted the attention of ABC News, supposedly due to the abundance of these female fans.
As reported by Nightline's Cecilia Vega, Deen remains unaware of why he appeals to so many young women, supposing that it might be his so-called "everyday" looks and personalities. Whatever the reason, his appeal has led to an AVN Award for Male Performer of the Year (which he won at 23, making him the youngest recipient in history) and has even attracted the attention of comparatively mainstream filmmaking figures like director Paul Schrader (Mishima, Blue Collar, Auto Focus) and writer Bret Easton Ellis (American Psycho, The Rules of Attraction).
Collaborating on a film noir to be set in Los Angeles and produced under a "micro-budget," Ellis and Schrader seem like a perfect match, both having dealt with the harsher sides of American life in much of their work. Thanks to Ellis's Twitter-habit, word got around that he considered porn's everyman, James Deen, to be his first choice to play the lead in the pair's noir project, in which, according to Ellis, "nudity and acting is a must." Additional information on the project is still under wraps as it continues preproduction, but Ellis let slip that he met with Deen and called the well-endowed burrito and anal sex fanatic "super-smart, funny, perfect for the part," also saying "if he doesn't get it I'll be very disappointed."
So will Miss B., Mr. Ellis. So will Miss B.