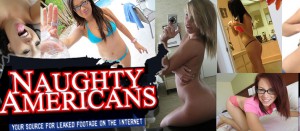 Naughty America has been producing some of this country's best hardcore porn for more than ten years and has become known for consistently high production values, narrative scenes that couple a believable everyday scenario with the most scintillating sex conceivable. Although the producers, directors, and crews Naughty America has used throughout its existence have been integral to the company's success, praise almost always falls on the performers, and rightfully so. The biggest names and most audacious men and women in porn have shot for Naughty America, often fitting in better on a site like My Friend's Hot Mom or Naughty Bookworms than anywhere else. In the minds of some would-be members, though, there has been one crucial thing missing from Naughty America: true amateur talent. That's all set to change now with the launch of Naughty Americans, a site devoted entirely to untested, unsigned everyday girls.
Following in the footsteps of Naughty America's sole POV-shot site, Housewife 1 on 1, but taking a decidedly less professional approach, Naughty Americans is a new site unconnected to the main Naughty America network, and stands on its own, exposed to the world. Designed to mimic a news site and keeping with the tradition of Naughty America's sexual parody of news media, Naughty Americans offers DIY-style POV-shot hardcore scenes that show girls you've never seen or heard of before fucking their boyfriends, husbands, and fuck buddies. Thankfully, the guys having their knobs polished saw fit to grab their iPhones or digital cameras and capture their latest conquest in HD, submitting it to Naughty Americans for publication; at least, that's the official line.
As with most adult sites hosting supposedly leaked or stolen footage, Naughty Americans' M. O. is a cover designed to give the impression of authentic amateurism without the risks – lawsuits, bad sex, unattractive women – involved in genuine DIY productions. Still, the site marks a new chapter in Naughty America's evolution, joining Tonight's Girlfriend, College Sugar Babes, MILF Sugar Babes, and Perfect Fucking Strangers as another site owned and operated by Naughty America, but not connected to the main network. As fans of the Sugar Babes sites anxiously await a network deal that'll give them access to all four sites for one discounted price, all eyes will soon be turning to Naughty Americans to see if this new Naughty America venture stays true to the company's motto "Nobody Does it Better". They could be waiting a while, though, as the site is still quite new and only offers ten scenes.
Look for a full review of Naughty Americans soon at Mr. Pink's.