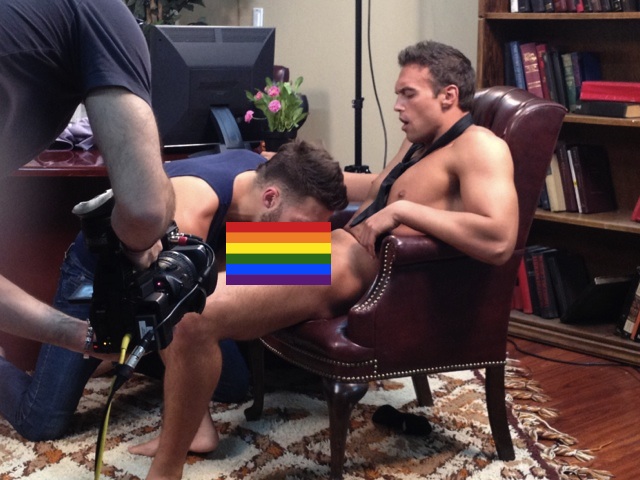 Women having sex with other women regardless of their sexual orientation is such a staple of mainstream pornography that it seems absurd to actually use the label "lesbian" to describe such scenes; and these are scenes shot with a heterosexual male audience in mind. Men having sex with men, however, has almost always been relegated to the "gay" part of the porn industry, a niche that, while hugely popular in certain circles, has not yet made any significant encroachments on "regular" porn's largely heterosexual male fanbase. Straight men going "gay for pay" – that is, having sex with men on camera for money despite their avowed hetero nature – is nothing new and a few notable pornstars have some homo hardcore work tucked away in the closets of their early careers. Much rarer, though, is the male performer with mainstream hetero-porn success doing an about-face and heading into the gay arena for the first time. In a career move that is undoubtedly risky, even in today's more LGBT-accepting social climate, Rocco Reed, the big-dicked star of such titles as 69 Bree Street, Anal Prom Queens, and Ashlynn Brooke's Adventures in Sex, has apparently signed an exclusive contract with noted gay hardcore site, Men.com.
First revealed (not surprisingly) on Twitter, Rocco's pseudo-outing took place just two days after his 30th birthday and instantly had his fellow porn professionals shouting "WTF!" and "OMG!" – though hopefully out of sheer surprise and not disapproval. Considering the sweetly handsome South Carolinian not only scored XBIZ and AVN nominations for 2012 (straight) Male Performer of the Year, but also the hand of everyone's favorite anal-loving Japanese-American superstar, Asa Akira (they're engaged), this news certainly comes as a shock!
Rumors immediately started flying around the 'net declaring Rocco as a confirmed and now out homosexual; others claim he is bisexual while others still insist this is simply a lucrative professional endeavor, nothing more. Whatever the case, Rocco's move to gay hardcore is a bold, brave, and truly adventurous one and for that he has Mr. Pink's admiration and respect. You go, Rocco!