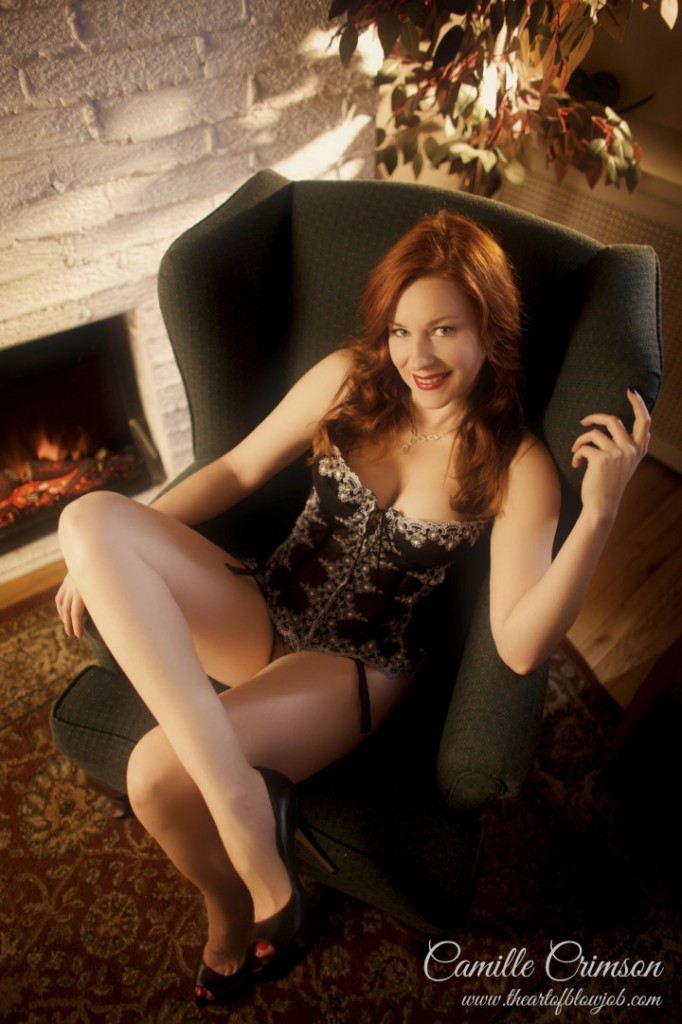 We at Mr. Pink's have been big fans of Camille Crimson and The Art of Blowjob for some time, but it seemed like everyone else was still favoring puke-inducing deep-throats as vicious as they seemed uncomfortable. Lately, however, the world seems to be waking up to Ms. Crimson's unique porn styling and her devotion to, well, the art of giving blowjobs. Especially noteworthy is Crimson's inclusion in, of all publications, the granddaddy of modern day adult entertainment, Playboy.
Writing for the Playboy site's Sex & Dating section, Crimson details five key ways to ensure you not only receive great blowjobs, but are worthy of them, too.
– Presentation is key, Crimson says, advising would-be tonsil-ticklers to wash up, trim excess follicles, and ensure underwear (if worn) is free of stains, holes, and loose waistbands. Ditch your crusty Fruit of the Looms, fellas, and spring for a couple pairs of Calvins.
– Inspiration. Here, mainstream porn takes some criticism from Crimson, one of the few outside voices attempting to curb the hyper-aggressive face-fucking prevalent in today's porn. She suggests warming up your lady (and yourself) with some "sensual, respectful, and beautiful blowjob porn". (Gee, I wonder where you'd find such stuff…)
– Communication is arguably the most direct path to oral satisfaction. "Without getting too bossy, voice your desires and get what you want out of the blowjob," she advises. This relates to the culmination of the act, too. "It's not bad to want to come in her mouth, on her face, on her breasts… but give a heads-up before you do and leave it open for her to suggest an alternative if she wants."
– While she's exhausting her jaw and tongue for your pleasure, you could at least show some Appreciation. When you're going down on her (which we'll get to in a moment), you want to know you're doing something right, right? Well, then, tell her when she's pleasing you either with a few whispered words of encouragement or simply moaning and thanking her afterwards.
– The most enjoyable of all Camille Crimson's blowjob tips: Reciprocation! She might've given you a headie for the ages, but unless you've been attentive to her needs – use your fingers, your mouth, a toy, or make her wait her turn – it's not likely to be a thrill repeated anytime soon. And, for chrissakes, don't just go through the motions! Help her feel the way you felt and you'll be well on your way to a permanent grin the envy of all men.