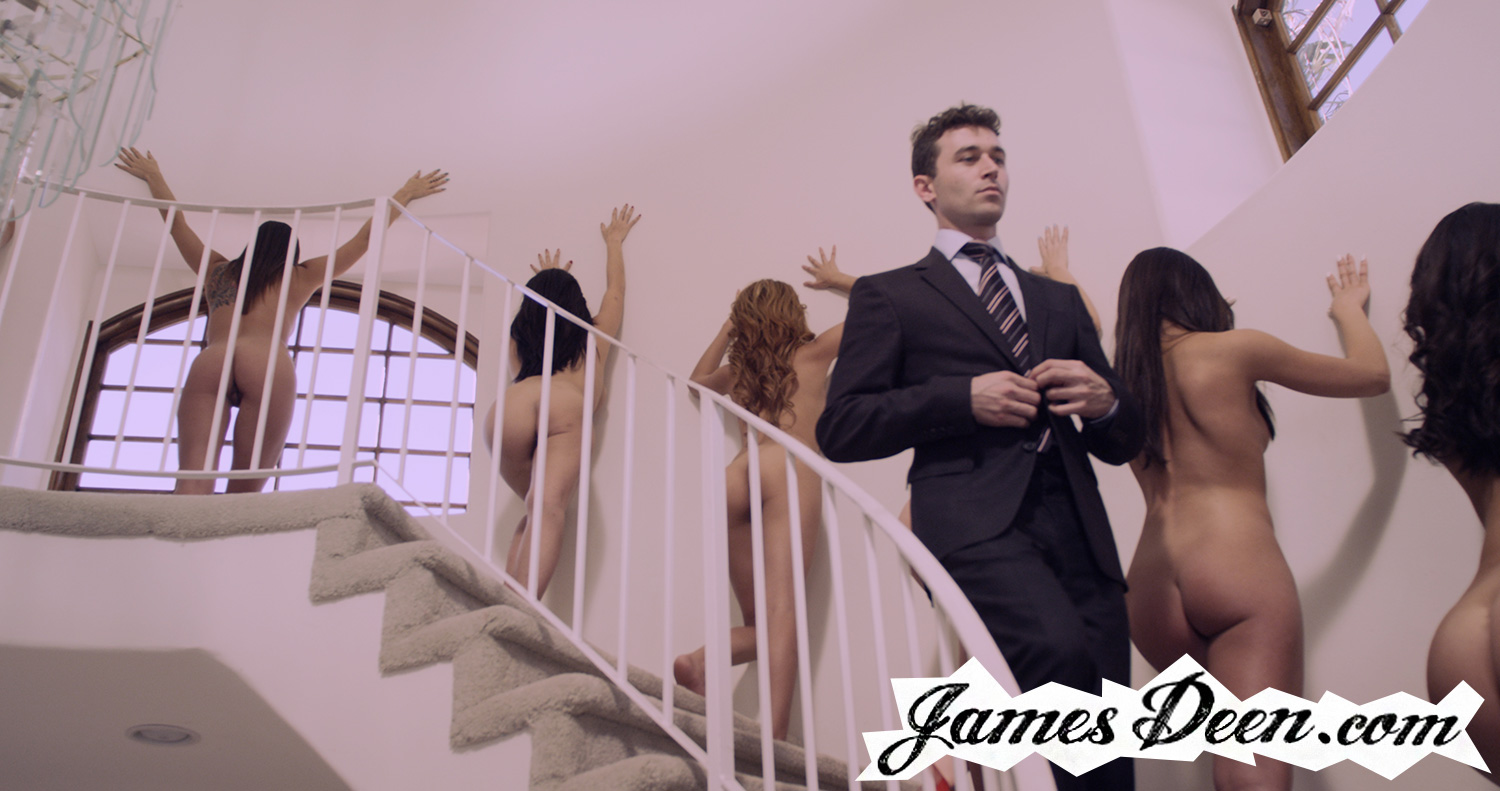 James Deen couldn't possibly get any bigger, could he? I'm not talking about his more than adequate member, either, but his celebrity. After ascending to unheard of mainstream stardom thanks to his dearly devoted female fans, many of them women who'd never before found a male pornstar at all appealing, a controversial CNN interview, and a role in a controversial Bret Easton Ellis-written, Paul Schrader-directed, Lindsay Lohan-starring movie, The Canyons, it seemed America's favorite perverted boy-next-door couldn't do any better! So, Deen did what any performer with newfound notoriety and success did, he went all artsy on us. He shot dimly-lit, grungy features based on the seven deadly sins: greed, gluttony, lust, pride, envy, sloth, and wrath.

GREED deals with an insufferable playboy whose mansion is literally lined with naked women. Strolling past them on his way to a meeting after facefucking a trio of beauties for breakfast. After fucking his colleague (Alektra Blue) and leaving her to roam his spacious abode, Deen's private stock of female flesh is fully unveiled, resulting in an orgy of epic proportions.

In GLUTTONY Deen hands full-figured Harper Hughes her first starring role and asks her to lie on a banquet table surrounded by tantalizing cuisine and copulating couples. Will she join in the wet-and-messy indulgence or remain abstinent? Whatever she chooses, you know she'll be well taken care of by Deen and his dinner guests, all eight of them.

For LUST, Deen hands the lead role over to Bailey Blue, who plays an insatiable (and rather inspired) nymphomaniac whose sexual exploration takes her from mundane morning sex to an alleyway anal pounding to a fantasy seven-dick roundtable laden with bondage wear and silent, dominant men. As Blue eyes some Polaroids, her fantasies again take over and she's struggling to accommodate four rock-hard men. It's dark and dirty in Bailey Blue's world.

PRIDE features Casey Calvert and sees her gangbanged by three suited women wearing not only Deen's cock but his face, too. A familiar figure enters, offers a silent command, and the masked trio bends over and exposes their rears, ripe for the taking. Deen ravishes all three then proceed to – get this! – spooges on the faces of his three doppelgangers before turning his attention to Ms. Calvert. Little does he know, however, that she'll be the death of him, quite literally.

Is this the actual honest-to-Yama demise of James Deen or will he return to tackle Envy, Sloth, and Wrath? Well, according to Evil Angel's release schedule, he will, so you'd best come back next week as I take another look at what Mr. Deen's fevered, perverted mind has come up with. And be sure to keep an eye out for Mr. Pink's brand new review of Deen's official site, where you'll find every episode of this series along with a booming archive of the world's most famous fucker's best work.