The one day every year on which everyone (of a certain level of intoxication) claims to be Irish, St. Patrick's Day, is right around the corner and (if you'll allow your faithful porn critic to offer his suggestion for your Saturday) the online pornosphere is already donning tight green hot-pants, getting loaded on whiskey and Guinness, and throwing itself at you, the nearest available warm body, in search of some company. What do you say, folks? Care for a boozy romp with two bold new porno revelations courtesy of our ol' pals the Bang Bros?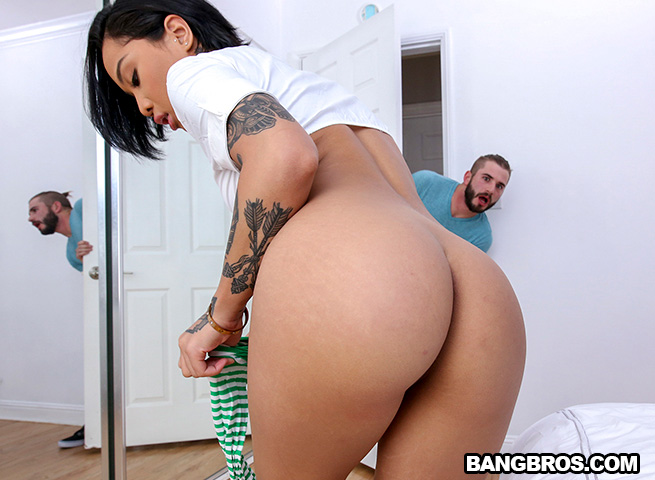 First to arrive at Bang Bros HQ this St. Paddy's Day season, landing at Bang Bros 18 on Wednesday, was a curvaceous, thick-lipped expert cock-rider, sultry Chinese-American newcomer Jade Kush, who threw herself at her scolding stepfather in lieu of taking her ultra-slutty outfit to a party as planned. Ryan McLane takes the reigns and has the Chicago-born Ms. Kush sliding up and down his glistening shillelagh with the camera capturing some stunning rear-end shots.
Having avoided the total absurdity of much holiday porn in its first offering, Bang Bros leaves it to Brown Bunnies and the always enthusiastic Honey Gold to bring the funnies. Left alone to dress before a big party – perhaps the same one Jade planned to attend; do I smell a threesome? – Honey gives the camera some lusty body-shots as she squeezes into a tight white top and green booty shorts, spied on the whole time by her peeping pervert of a stepbrother. Busting him at her barely-cracked bedroom door, she insists on teaching the little fucker a lesson. peeling off her shorts and straddling his face, Honey forces him to devour her "pot of gold" as, again, we're treated to glorious low-angle shots of her slender body cavorting against his mouth. Soon, she's demanding cock and sucking it through a literal pot of (fake) gold, squirting on her nice clean bedspread, and taking her kinda-sorta-relative's load on her tongue, gold coins strewn about her body and the floor.
Now, I know the lure of free-flowing liquor and shit-faced revelry is strong – believe me, I know, I'm sometimes tempted belt out It's a Long Way to Tipperary after a few too many Connemaras – but with utter pornographic delights such as the two women featured this week at Bang Bros, who needs sunlight, social activity, or genuine human contact, Irish or otherwise?