Story Daniels may be best known for allegedly banging the current Commander in Chief – and, in the face of serious (alleged) intimidation, and threats to her safety and livelihood, standing up to some of the most powerful people in the country – but, in her professional life (when she's not getting arrested/harassed on some utter bullshit or another), she's one of the most accomplished and well regarded in her field. Thankfully for us, that field is fucking on film.
This year may have been Ms. Daniels's most tumultuous thus far, what with the media spotlight being intensely trained on her and police busting in on her while on the job, but the AVN, XRCO, and NightMoves Hall of Famer found time to be featured in her very first Brazzers scene, much to the delight of fans eager to see her away from Vivid, Wicked, and the like. Penthouse magazine did Stormy the honor of naming her the Penthouse Pet of the Century (though it didn't specify which century) and Digital Playground paired her again with Keiran Lee for a parody of Colbert's nightly nut-up entitled The Fellate Show (still to arrive).
Now, personally, Stormy Daniels never really did all that much for me. Not my type. Not a regular viewer of her usual studios. Blah blah blah. This year, all that changed with one image: this one.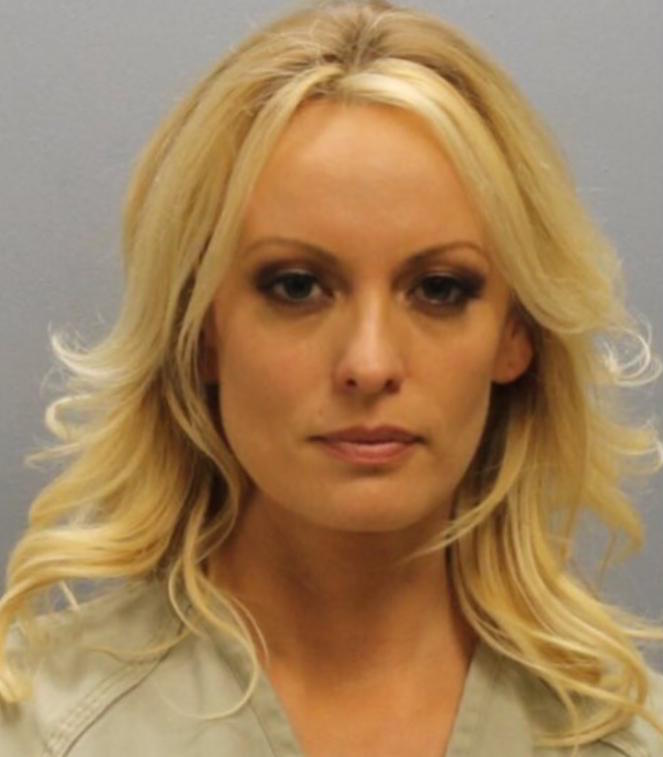 Now, that's an image I never thought would prove such a turn-on so as to totally sway my opinion of a singular adult performer. The slow burning fire in her eyes; her that stoic resolve: that look of "Oh, is that all you fuckers got?"
Embattled she may be, this is Stormy's year, let there be no doubt.