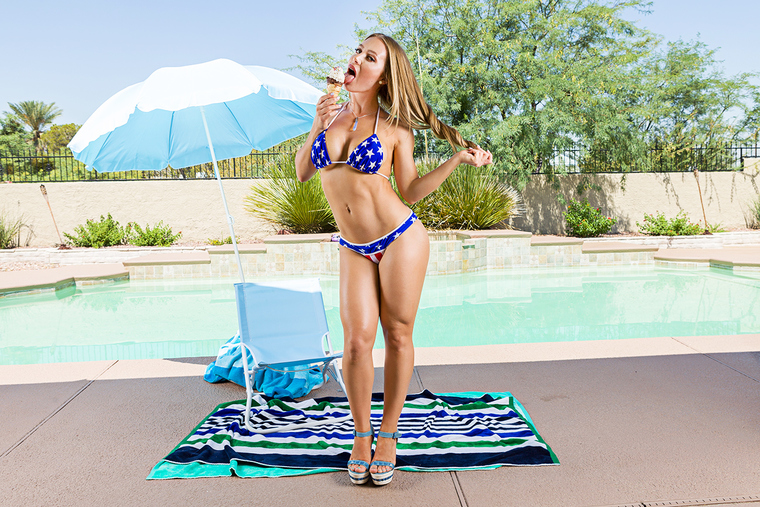 Britain has decided to leave the European Union but is already having second thoughts about its newly claimed independence. "But Britain was independent! Hell, many countries fought bravely to take their independence from the British, so what's the deal?" Well, pal, "independence" is something of a buzz word in popular culture and has been at least since the release of the blockbuster sci-fi flick Independence Day in 1996. Now with a sequel in wide release and the media buzzing constantly about Brexit, the rise of independent politicians, and Earth-invading alien species, the spirit of independence, self-determination, and self-reliance runs high, but never as high as when we approach July 4th, the day the United States of America celebrates kicking the Brits to the curb. The porn industry always jumps at the chance to shoot freedom-themed, red-white-and-blue episodes in celebration of the holiday and this year all the usual suspects have once again come out to play in the name of the U.S. of A.
Oiled Independence Day arrives courtesy of the newly minted 4K Ultra-HD visual wonderland that is Lubed, stars lithe young blonde Ashlee Mae, and sees her peeling off a patriotic bikini beneath a backyard waterfall, sliding down a waterslide, then finally taking as much of one man's cock as she can handle while laying back on the American flag. Rich visuals and plenty of POV shooting has made Lubed a site worth watching closely, and this holiday celebration merely adds icing to this very moist cake.
At Lubed's sister-site, Passion HD, blazing hot natural newbie Kylie Page also dons a flag-print bikini and seduces a fella by the pool, shaking her ass and showing off her incredible curvy figure waist-deep in water. Finally emptying her beau's load onto her sweetly smiling face, the 'Blonde American Teen' delivers an predictable but quietly powerful scene.
Naughty America usually pulls together something fun for the holidays and this year A Bangin' 4th sees NA's Virtual Reality capabilities used to great effect as Nicole Aniston confronts you pool-side for some rest, relaxation, and really intense sex. Eye contact is ample in this immersive POV scene as Ms. Aniston stares you down, stars-and-stripes bikini barely clinging to her amazing body, sucks you deeply then climbs aboard for the ride to sexual satisfaction and freedom from frustration. Also at Naughty America, Phoenix Marie won't be seen in VR this 4th, but she does throw herself into an encounter with Johnny Castle, seducing his pizza delivery guy to sate the loneliness of an empty holiday party at home.
Brazzers' entry into this year's 4th of July porno slate carries the title Cumming to America and sees everyone's favorite diminutive young Spanish porn stud, Jordi El Niño Polla ditch his brand-new American girlfriend when he finds himself surrounded by three foxy MILFs at a 4th of July BBQ. Richelle Ryan, Phoenix Marie, and the inimitable Julia Ann welcome Jordi El Niño Polla to the USA with a fourway romp away from his girlfriend's jealous gaze.
So, this 4th of July, whether you're basking the the toasty, fragrant embrace of a well-fueled BBQ, working for your corporate slave-drivers, or enjoying a sedate day off with loved ones, the porn world knows where you'd really rather be: neck-deep in primo pornstar pussy, exercising your hard-won sexual freedoms and leaving a trail to mark your territory all across the New World.