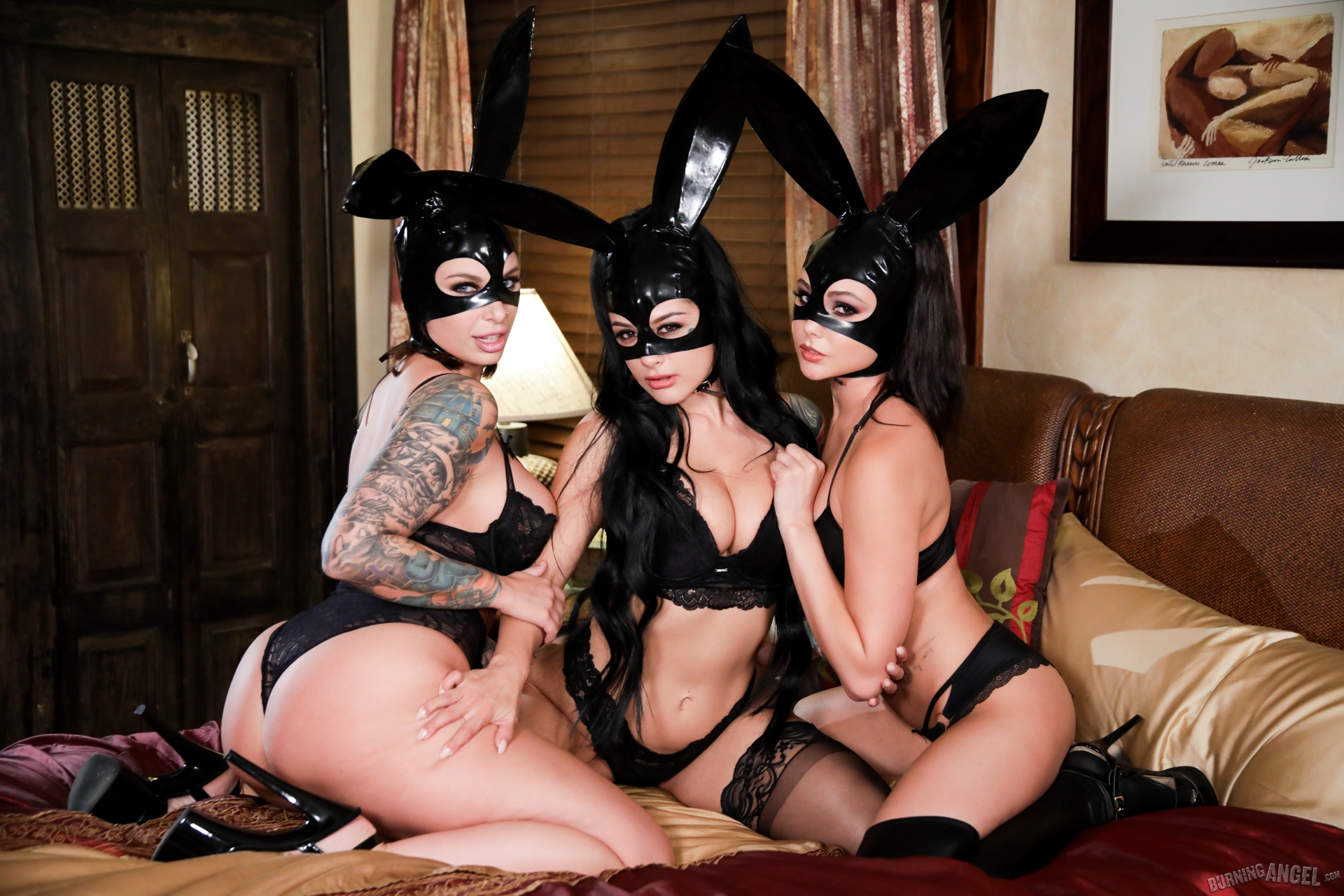 Well, it's been a whole five days since the spirits of the netherworld rose up to possess us all, thrust us into elaborate (and often crazy expensive) costumes, and hurl us together for a wild, unhinged social explosion, so what does the porn world have to show for it? This year, along with the requisite cosplay-aided carnality and general fun-lovin' usually seen in the adult sphere around this time of year, a few studios went all out and delivered multi-part epics tailored to Halloween fans everywhere. The infamous Brazzers set itself apart thanks to the efforts of a particular returning superstar performer while Burning Angel, no stranger to horror-themed porn, released another porn parody starring a cast of today's boldest studs 'n' sluts. Whether you were too busy IRL to beat your meat last Wednesday or spent the whole day immersed in utterly fantastic fucking, here's Mr. Pink's recap of what went down at two of the most impressive porn studios in the land on Halloween '18.
The world famous "ZZ" Brazzers roped in returning open-orificed star, Bonnie Rotten, who took a temporary break from porn in late 2015 to welcome her first child, and cast her as a woman whose Halloween is ignited by the arrival of a mystery package containing a vibrator. He Came at Night opens with Bonnie enjoying some alone time with her new toy before being startled by a phone call from some heavy-breathing freak who's actually a lot closer than she thinks. In Part 2, Bonnie's prank caller won't stop so she turns to neighbor Bill Bailey for a safe, secure lap to sit in. It doesn't hurt that Bill's lady, Kira Noir, is just as concerned for her foxy female neighbor as her man is. Part 3 brings Bonnie's terrifying ordeal to the inevitable conclusion: the masked figure lurking on her property and breathing heavily down her phone line can no longer hang back and observe. Small Hands strikes, charging through the house in pursuit of his moistened, fleshy prize, revealing himself to be Bonnie's tormenter – and not a bad lay, at all!
Burning Angel has been delivering awesome Halloween entertainment for discerning adults for many years now and, this year, the efforts BA unleashed on its devoted subscribers and supporters went above and beyond what most studios can muster. Joanna Angel and her crew of devilish deviants concocted this year a four-part extravaganza called I Know Who You Fucked Last Halloween. Detailing Joanna Angel's descent into a very horny version of hell, chapter one sees her husband Small Hands driving Ms. Angel to a secret location for a "surprise." Well, surprise! Ivy Lebelle, Katrina Jade, and Ariana Marie pounce on Joanna and devour her completely, leaving her to wonder what her ultimate fate will be. Ms. Lebelle, an awesome new future superstar, takes chapter two for herself, treating a preferred client, Steve Holmes, to a wondrous working over after her pops up in a spooky mask, playfully scaring her. Chapter three highlights the excellent Katrina Jade: relaxing at home, trying not to recall the grisly death from chapter one, Ms. Jade is visited by the deceased woman's widower and decides to help him get over the loss of his one true love… with pussy. Working its way to a roaring climactic scene starring Ariana Marie, I Know Who You Fucked Last Halloween spans many years and ends on a denouement. A year after enduring the terrifying ordeal of chapter one. Ariana is in her yoga studio teaching two guys to limber up when she reveals her hidden interest in something else, the infamous Devil's Triangle! Taking on both boys in an effort to observe herself of her sins, Ms. Marie is ultimately left with a messy studio and face – and a fuckpile of regrets!
Whatever you ended up doing on All Hallows' Eve, we hope the following days are filled with fond remembrances and plenty of costumed carnality!