Here in the USA interactive porn has thrived through live hardcore shows (a la Brazzers Live), webcam feeds, and Kelly Shibari's now legendary fan-bang (Kelly Shibari is Overloaded), but we're still trailing behind Japan in unique methods of viewer participation. Japanese AV idol, Uta Kohaku, was set to star in Semen Collection 2, but she and the producers found their reservoirs running a little dry. Unable to procure enough ejaculate to satisfy the demands of the script, Uta took to Twitter to urge her fans to send in bottle of their own seminal fluid and a radio station did likewise. The result? Well, see for yourself.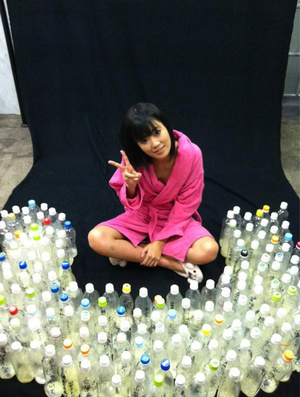 Uta, who is known for her resemblance to Atsuko Maeda, a former member of Japan's 91-member girl group AKB48, received over 100 bottles of ejaculatory fluids, each one labeled with the suppliers name and Tweeted her thanks: "The semen from my fans! Awesome! I will care for them as if it were my own"
While those of us used to more conventional, straightforward porn might find the idea of fan-submitted ejaculate a little tasteless, you've gotta hand it to Uta Kohaku and the producers of Semen Collection 2, Radix: that sure is a novel way to get your fans involved.
Two hardcore scenes featuring Uta Kohaku can be found at All Japanese Pass.