The Arnold Schwarzenegger sci-fi vehicle Total Recall was released in 1990 and remade in 2012 and both movies feature the brief appearance of a woman with three breasts, an alien creature hell bent on being fondled by a three-handed man (or maybe three one-handed men). Although Kaitlyn Leeb (the actress playing the role in director Les Wiseman's 2012 remake) courted controversy when she wandered around San Diego Comic Con with her three fake tits almost completely exposed, it took a full 14 years for someone to take such strong inspiration from the three-boobed woman that she'd attach a third breast to her own chest, going through 50 plastic surgeons before finally finding one who'd agree to the absurd procedure. The kicker, though, is that Florida massage therapist Jasmine Tridevil claims to have opted for a third breast to make herself "unattractive to men".

Clearly not thinking her body modification nor the motivation behind it through very thoroughly, Tridevil seems to have forgotten that heterosexual men will do almost anything for access to a pleasing pair of breasts. For three, why, they'd attempt to colonize Mars singlehandedly. How she hopes to shirk male attention is… well… they're fake. Obviously.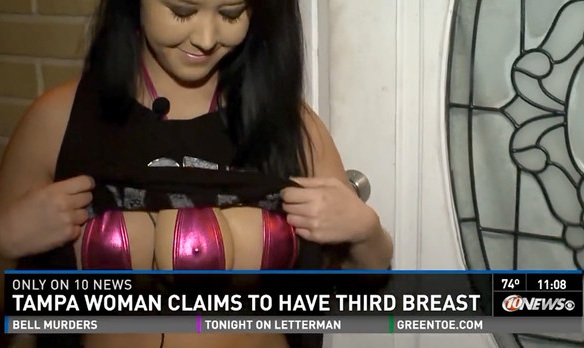 Aside from videos showing off her new rack in a tri-kini, answering questions from interested parties, and claiming that the unemployed are jobless by choice alone, Tridevil's YouTube channel fails to provide any evidence to support her claims of authentic third-boobery. What does appear, though, are links to news items refuting her claims and the following interview with Tampa's WTSP:
I suppose we'll find out the truth when Tridevil's self-produced reality show is eventually picked up by MTV (which she seems convinced will happen any day now). Episode six allegedly contains footage of the "star" walking along a beach in the same tri-kini she modeled in multiple YouTube videos as well as on WTSP News, when she told reporter Charles Billi she's willing to do anything to become famous. While Tridevil's new appendage may remain under suspicion, she'll have her chance to tell the whole truth when (or better said, if) her show hits TV screens everywhere.