After Nubiles got us all antsy in the pantsy about tomorrow's annual USA-DAY celebration – aka 4th of July, Independence Day, ID4, Daddy's Drunken BBQ & Brawl etc – as covered in our last missive, it's time to turn to the rest of the pornosphere and enjoy their own red-white-and-blue holiday offerings.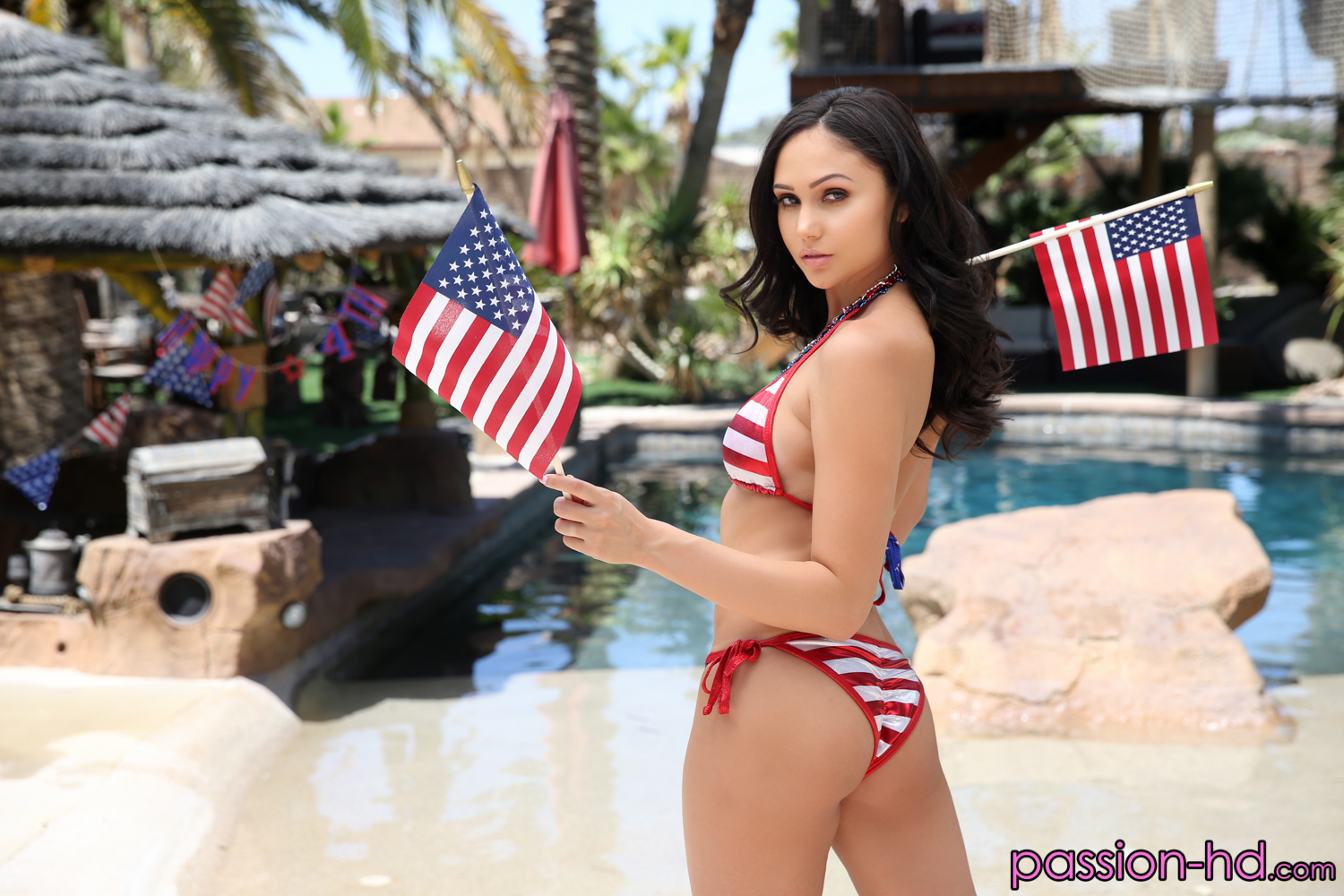 The seemingly always outdoors Mofos crew put on their I Know That Girl hats and invite you to virtually hang with Athena Palomino, decked out in stars-and-stripes, as you both enjoy a relaxing sunny day by the backyard pool. The barbecue just adds to the heat and soon it's you, Athena, and a POV HD camera romping around in the bedroom until a certain someone ends up with a cum covered chin and chest. With Ms. Palomino's recent semi-retirement announcement – she found God and is sticking to custom and independent porn from now on – this could be one of the last chances we have to adore a woman who could've been the next (seriously) big thing but now appears consumed with her dream of funding a public park in Baltimore.
Globally, the idea of your stereotypical American Girl generally has one constant: curves. Teen Curves, Team Skeet's requisite T'n'A site, this week features a young vixen by the name of Skylar Snow. The Puerto Rico-born stunner swans around a backyard pool – oh, hey – before heading inside to more properly work the shaft of one enviable fella.
Passion HD delivers one of its signature visual erotic wonder-fucks, this time serving fans up a steaming hot Ariana Marie, who gives a great bikini-and-flag tease before, guess what, poolside sex takes place! I know the weather's quite nice across much of the country right now, but must every damn 4th of July porno involve a barbecue and swimming pool? Thankfully not, as our next example proves.
Spizoo – which, incidentally, keeps getting stronger and sexier – delivers an immigration story Americans of every political persuasion can support, and one that thankfully involves not a single swimming pool! A big-dicked Romeo arrives from Italy intent on taking advantage of American-style freedoms, especially those involving a twin-set of loose women eager to absorb the flesh and fluids of an exotic European. Logan Long, a local boy and Spizoo regular, joins the fun in the celebratory orgy. Things get wild and things get wet with some steamy hot-tub makeout action between Blaten Lee and Eden Sin, but again the group goes inside to carry on in relative private.
Whatever you're doing this Fourth, stay safe, have fun, and remember what this nation was founded on: an unfounded expectation of complete sexual freedom and fulfillment. (At least, that's what I remember from Civics class…)