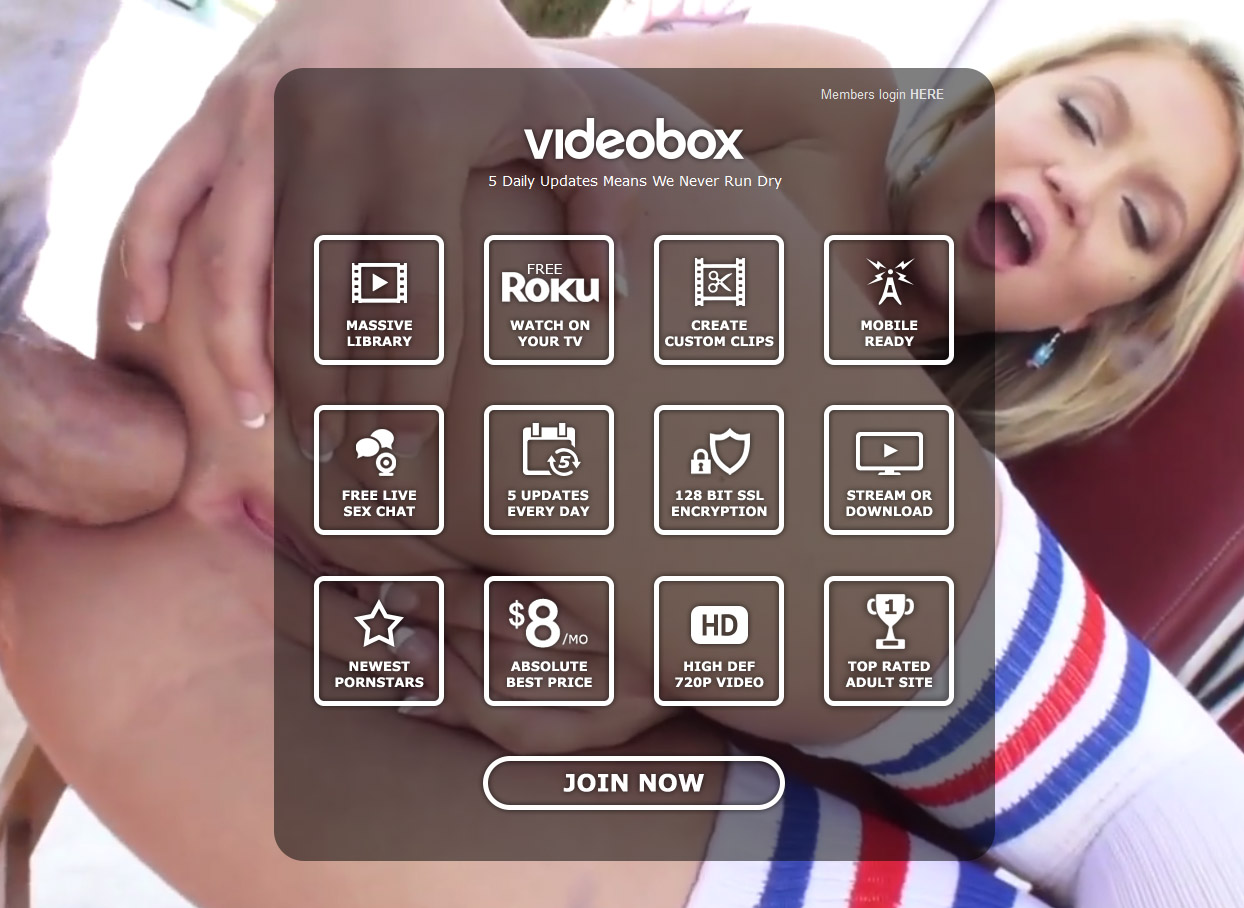 Oh, you wanna talk 'must have' porn sites, huh? Those adult vendors that'll devastate your libido and keep you indoors for months on end, that's your specific area of interest? Well, it's a good thing you stopped by 'cause Mr. Pink has another doozy for you, but it's not one of the usual studio sites, no sir. Where some porn sites favor original productions and exclusive availability, others simply want to provide with access to a huge amount of porn, preferably of good quality, at a decent price. Chief among these is the legendary Videobox, home to more than twenty thousand DVD releases, each of which has been digitized, had its cast, creators, and content detailed and described, cataloged according to niche sexual interest, and placed on this awesomely enormous site for streaming and downloaded viewing. Yeah, you read that right: 20,000 DVDs!
Boasting one of the most highly evolved interfaces in porn, Videobox is a joy to use, guiding you as it does from one area of interest to another with minimal fuss, from one current starlet to a legend of the Golden Age, from the standard archive (which features titles from the best and brightest studios in adult entertainment) to the licensed Channels providing Elegant Angel, Kink.com, Reality Kings, Evil Angel, Vivid, Soft On Demand, and Club Tranny content for those willing to pay a modest additional fee. On most sites and networks, members tend to leave upper-tiers of membership alone and make do with the basic access package. While doing that at Videobox will still provide any viewer with an astounding array of great porn, indulging in some more targeted masturbation fodder proves almost impossible to resist. After all, sign up for Vivid's Videobox Channel and you'll have almost 1000 additional movies bringing nearly 5000 extra scenes to your fingertips. And the cost? Only $15 a month.
Whether sticking with the basic membership or adding whichever upgrades prove hardest to resist, Videobox is not only reasonably priced, it's almost stupidly affordable. Single months can be had for $15-a-pop while longer stays see discounts pile up and really make a difference. How many adult sites of such a sterling reputation will let you inside for as little as $8-a-month and still offer you the chance to win a Roku set-top streaming device with which to broadcast your favorite Videobox scenes all over your presumably giant television, huh? Very fucking few, that's how many.
Nobody beats Videobox and, these days, it almost seems like there's nobody game enough to even try. Long may you reign, Videobox!