Contrary to what the current scandals rocking Hollywood's elite would have you believe, not everyone getting laid in tinsel town is doing it in a criminal fashion. In fact, so readily do some actresses disrobe and perform sex acts before a high-end camera (and hopefully respectful crew), that one of the world's most infamous websites is devoted entirely to cementing in the history books when and where which actresses, models, singers, and presenters got their gear of for our entertainment purposes. C'mon, surely you're already intimately familiar with the work of Mr. Skin!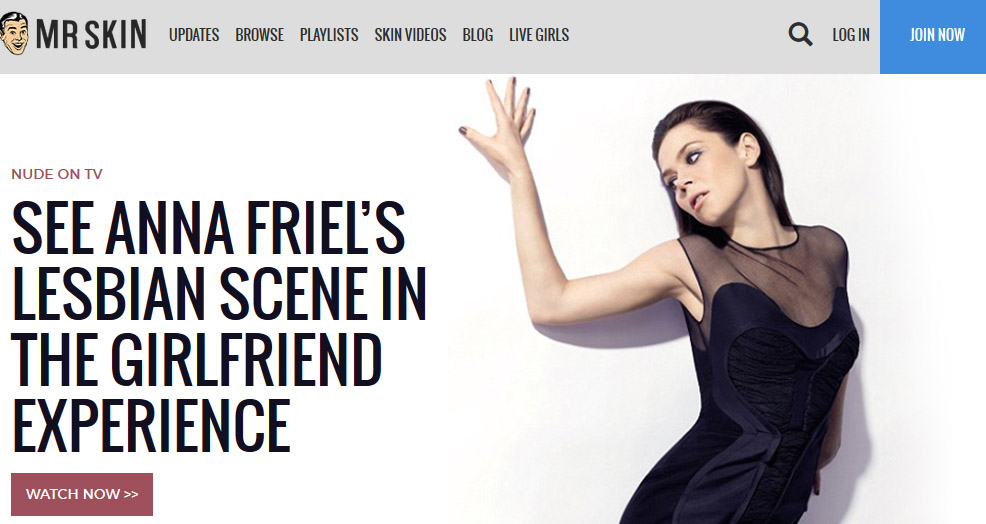 Documenting the time, title, and exact nature of each titilation has led to Mr. Skin being inarguably the world's most devoted chronicler of celebrity skin. Now, with the current state of television delivering better (and bawdier) shows than ever before, and with more pop-stars and actresses taking daring leaps into sexually graphic shows, Mr. Skin is an even more essential tool than ever.
Recent blogs devoted to the Best of Olga Kurylenko, topless "sweeties" busting out of sweaters, and the most salacious parts of the TV version of Steven Soderbergh's Sasha Grey vehicle The Girlfriend Experience; Anna Friel filling in for Grey very nicely indeed. Along with general TV nudity round-ups, showcases of particularly sexy talents, and custom playlists detailing the best racks/rumps/lips/legs in Hollywood, Bollywood, Nollywood and beyond, Mr. Skin's parade of very-nearly-porno is an unmissable part of the adult Internet and an increasingly essential tool in this stream-saturated era.