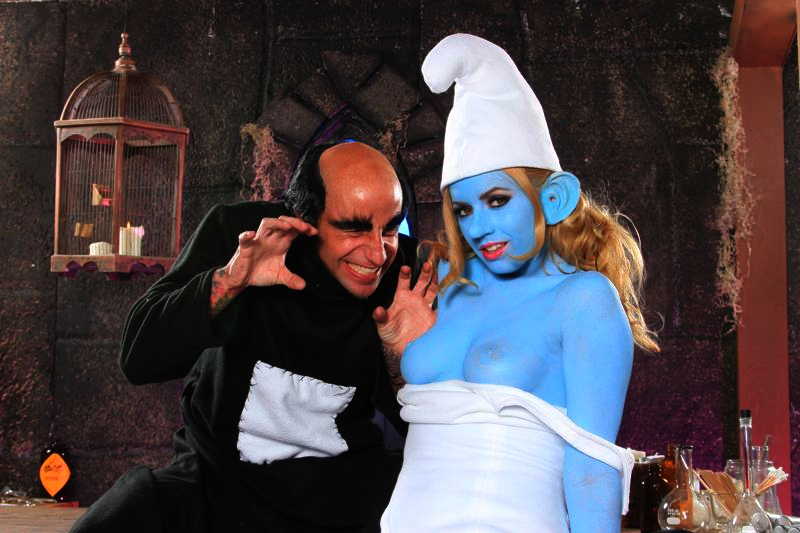 Of all notable pop culture properties, few are less overtly sexual than The Smurfs. The Muppets have that dominating vixen Miss Piggy and even the Teletubbies offered up some rather sexual imagery (those things on their heads sure seemed phallic and Twinky Winky was a noted gay icon), but the closest it seems The Smurfs ever came to promoting discussion of sexuality was that scene in Donnie Darko where Donnie's friends suggest Smurfette, as the only notable female Smurf, serviced the entire village; hardly a reputable journal of psychological or sociological inquiry. There you have it, Smurfs aren't a sexually motivated creation. This Ain't the Smurfs XXX, however, is.
Another parody porn from the reigning king of the genre, director Axel Braun, this seemingly uncalled for hardcore romp through Smurfdom centers around the not at all blue pornstar, Nicole Aniston. Slaving away behind the reception desk at the Hustler offices, Nicole is startled by the sudden space-time-continuum-destroying arrival of three little blue people on her desk. It turns out Brainy Smurf  (Jeremy Conway) rigged up a teleportation device and thrust himself, Papa Smurf (Jay Crew), and the delightful Smurfette (Lexi Belle) into the present day real world. Evan Stone, also plodding around the Hustler offices – so, no springing for elaborate sets or location shoots then, Braun? – presents Nicole with a challenge: if he finds the little blue critters, he'll want them all to himself, forcing the busty blonde to distract him the only way she knows how. Fast-forward a touch and the Smurfs soon discover another of their kind (Charley Chase) and Hustler shutterbug Bill Diehl promptly shoots both Smurfettes in a lesbian scene that begins the show the superficial nature of their blue skin.
Soon enough, the bright blue penises arrive on the scene and the colorful makeup is really put to the test. Although it's somewhat distracting to find yourself counting the globs of blue body paint falling off the performers as Papa and Brainy prove to Charley that they're blue from head to toe, even beneath their tight white and red trousers. Lexi's Smurfette isn't denied a solid dicking, either, and the final sex scene pits her diminutive cobalt pussy against Gargamel's (Barry Scott) impressive pink sword.
This Ain't the Smurfs XXX is now available as a two-disc set (with bonus 3-D version and glasses included) in adult retail establishments everywhere. Those fully devoted to online video can see the bluest blue movie of all time at Hustler.