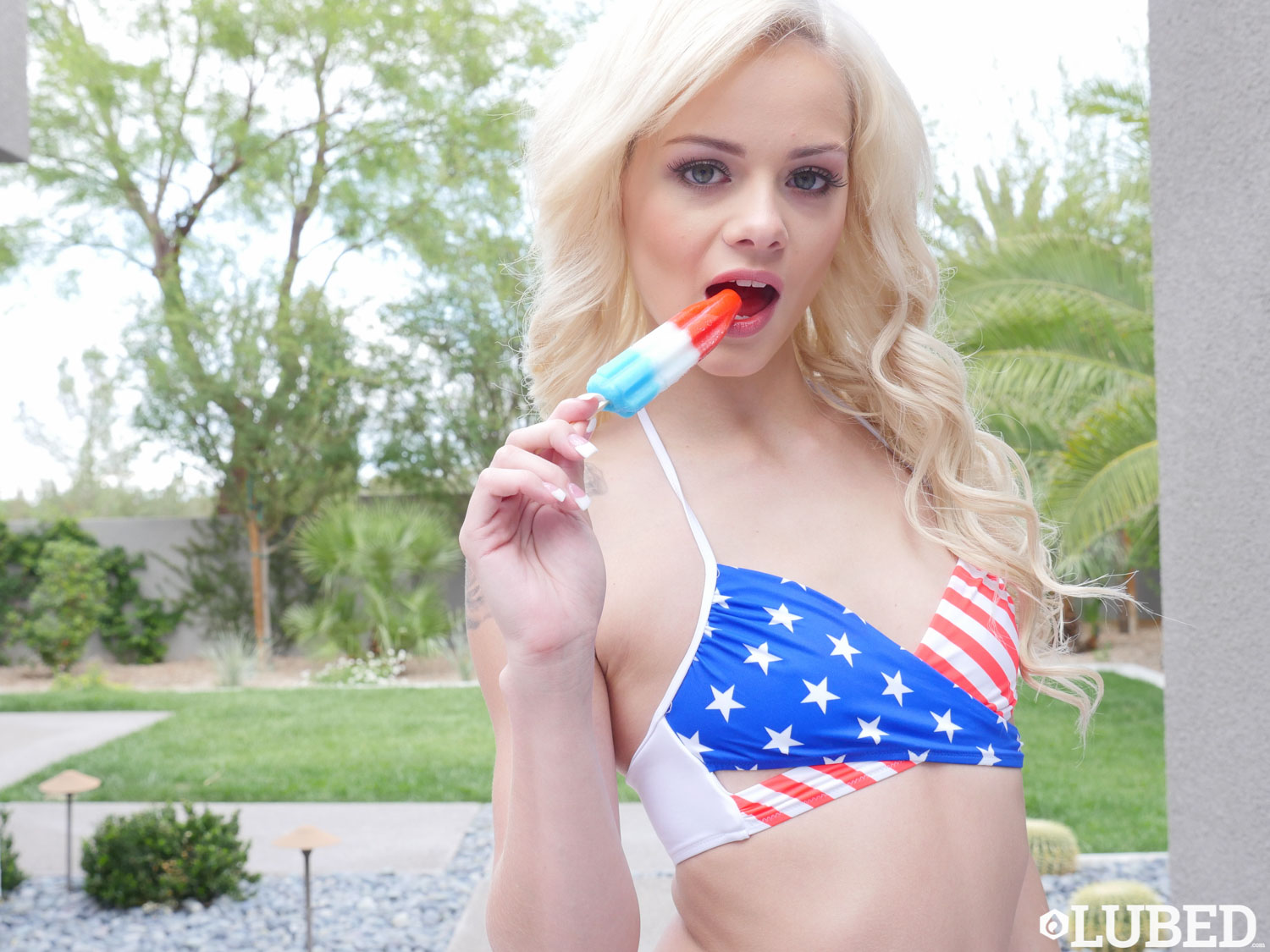 The United States' national day of remembrance of those who died serving in the armed forces defending our freedom from despots and tyrants and that ol' reliable threat of communist dominos. A much sadder version of Veterans Day is how some people think of Memorial Day, the focus being on those no longer with us. But how do we best remember those men and women who made the ultimate sacrifice for their nation. Why, we shoot some racy Memorial Day porn in their honor, of course!
Monday saw many of us kicking back in the outdoors, barbecuing something bloody, drinking something bubbly, and daydreaming about a life where everyday is a holiday. The major porn networks, though, were releasing their Memorial Day celebrations, trying to steal us porn lovers away from family, friends, and backyard football in favor of triple-headed blowjobs, stars-and-stripes bikinis, and explosive sex with foxy American babes.
Naughty America's My Friend's Hot Girl site presented a trio of incredible women – Abigail Mac, Anastasia Hart, and Subil Arch – in a soapy boat-washing sessions after which they all pounced on the owner, Johnny Castle, insisting that now his boat is spotless and clean, it's time for Johnny to take care of this trio.
Passion HD brought in porno newbie Lucy Doll, she of mousey high-pitched voice, inviting her to don a red, white, and blue bikini, jump in the hot tub, twerk just above the waterline, and take her fill of… why it's Johnny Castle again, having the best Memorial Day any working stiff could ask for! A brand new site by the same folks behind Passion HD also joined in the celebrations of the day, Lubed bringing another POV view of lithe young blonde Elsa Jean as she oiled up her nubile body, stared into the camera lens, and fucked "your" brains out, this time white Chad White doing to the deep-dicking honors. Tiny4K, also connected to the Passion HD network, roped in fan favorite Dillion Harper for 'Red, White and Brunette' a showcase of Harper's delectable curves, sweet demeanor, and devotion to life, liberty, and the pursuit of sexual bliss. Sucking a popsicle that soon melts from skin contact, a cum-covered Dillion ends her scene with an obvious sign-off "Happy Memorial Day."
It may not be clear must how these hardcore romps from Naughty America, Passion HD, Tiny4K, and Lubed really honor the memories of those who died fighting for the USA, except that this, folks, is A) Why the terrorists hate us, B) evidence of our unparalleled freedoms, C) what those brave soldiers died for, the chance to beat off to themed porn during a national holiday.