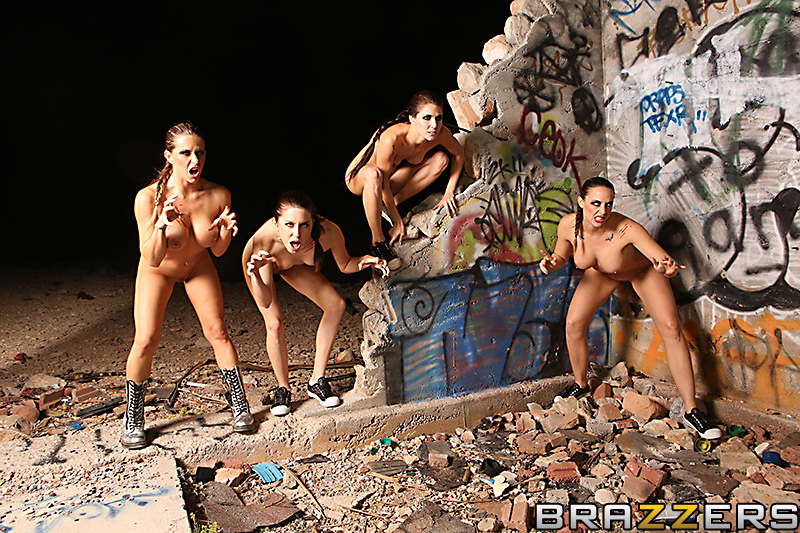 Every year when October comes to a close, the online porn world sees an inordinate number of fanged, red-eyed, blood-sucking women launch themselves on unsuspecting men and, depending on where you look, on each other. Halloween, All Hallow's Eve, Hop-tu-Naa, Qingming, Dia de los Muertos, Samhain… Whatever you're celebrating come the close of October and the advent of November, you can bet there's a porn scene hitting the cyberwaves to celebrate these holidays. Predominantly focusing on All Hallow's Eve and its closest variants, American porn sites always make a concerted effort to ensure their fans remember their annual dose of Halloween-themed smut. This year is no different to previous Halloween holidays in the porn world – although the ever-increasing popularity of Twitter and Instagram are sure to give us glimpses of stunningly sexy pornstar costumes – and a number of sites have already launched their celebrations.
Over at Kelly and Ryan Madison's Teen Fidelity, 18-year-old cutie Staci Silverstone comes up against one legendary movie villain of more recent times, Freddy Krueger himself, in a scene entitled Nightmare on Teen Street. Let's hope she manages to avoid damage to her killer young body!
Wicked Pictures is also planning a live event, its twelfth, which will feature Phoenix Marie, Rachel Roxxx, and Alexis Monroe. Although details are still unavailable, it is being billed as a Halloween Special and since it's due to air on October 30th (4pm EST), you can be sure the aptly named Wicked won't disappoint. (Unfortunately, you'll just have to keep an eye on Wicked's website for further details.)
Brazzers site, Doctor Adventures, already has its Halloween celebration online. Called S.L.U.D.S. (Subhuman Lesbian Underground Dwellers), the scene sees mutant sluts Rachel Roxxx and Chanel Preston ensnare and devour soliders Will Powers and Bill Bailey in a Nevada desert in a possible dystopian future.
Mommy Got Boobs, another Brazzers site, is also joining the festivities with Hellvira: Mistress of the Fuck. Modeled after Cassandra Peterson's buxom goth creation, Hellvira (Joslyn James) dazzles the hicks of her old hometown. Toni Ribas and Will Powers might be conservative dudes, but once face-to-face with Hellvira's ample rack, well, they lose all self-restraint – as anyone would! There's sure to be more Halloween smut on the way, so keep your beady eye trained on Mr. Pink's to get all the gory details as they develop.