When the FIFA World Cup rolls around every four years, the entire planet goes nuts over football, or (if you're a North American or Australian, for example) "soccer." As the sport most consider "the world game," the World Cup seems even to arouse the aspirational athletic interest of otherwise very-busy porn performers. Not only are some more vocal men and women tearing up Twitter fandoms, but an internationally flavored team of performers have thrown themselves into a singular scene that perfectly captures the color and excitement of the World Cup. Kinda.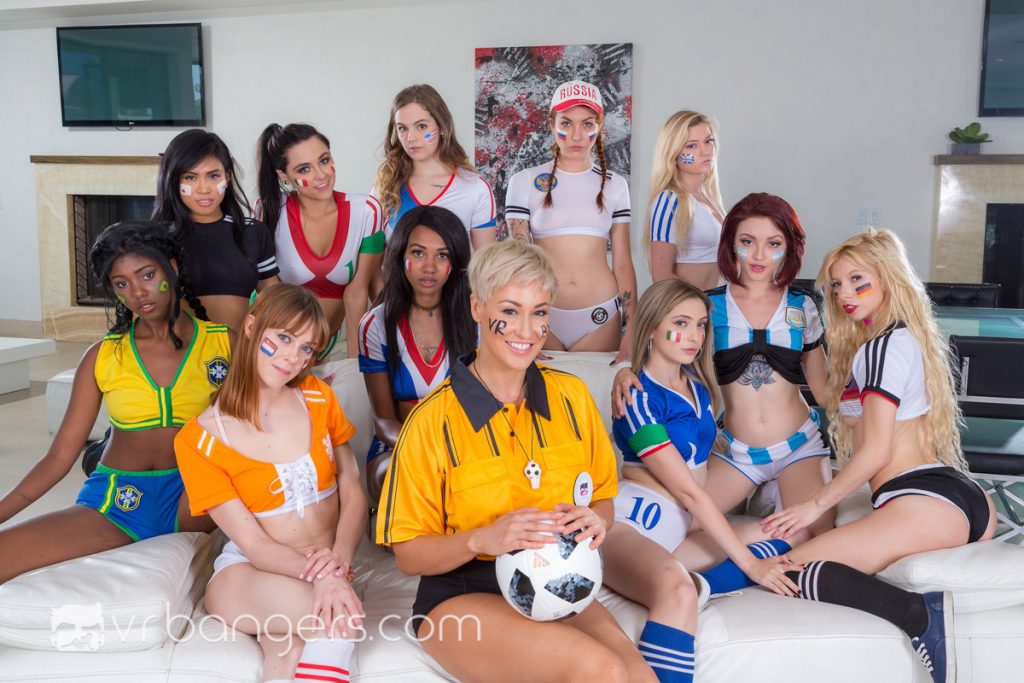 VR Bangers delivers plenty of immersive sexual experiences well worth sampling, but its latest goes above and beyond most VR producers' most adventurous scenes, roping in a full dozen of today's sultriest women, each one representing a different nation competing for the World Cup. Referred by Ryan Keely, the girls take turns working the shaft of your lucky avatar, first orally, then vaginally, before our foxy Ref gathers everyone around for a final shot at goal: her open mouth.
Starring Lola Fae (representing Argentina), Daizy Cooper (Brazil), Chloe Foster (England), Alexis Avery (France), Devon Green (USA), Jane Wilde (Italy), Alexa Nova (Netherlands), Kenzie Reeves (Germany), Zoey Foxx (Mexico), and Emily Blacc (Russia), this wanton international adventure isn't just limited to an immersive virtual orgy. Viewers can vote for their favorite cocksucker and the nation she represents, pushing her ahead of the others and earning her not only respect and acclaim, but presumably some kind of phallic trophy, too.
Ember Snow, Lola Fae, and Kenzie Reeves currently lead their respective Groups for Japan, Argentina, and Germany but there's still a shot for the outliers. (Watch out for Italy's Jane Wilde, I say!) You can cast your votes at VR Bangers now after sampling the oral talents of each competitor and, if you think you can handle the excitement, watching them gang up on one incredibly lucky guy for one of the most adventurous VR porn scenes this reviewer has yet come across.