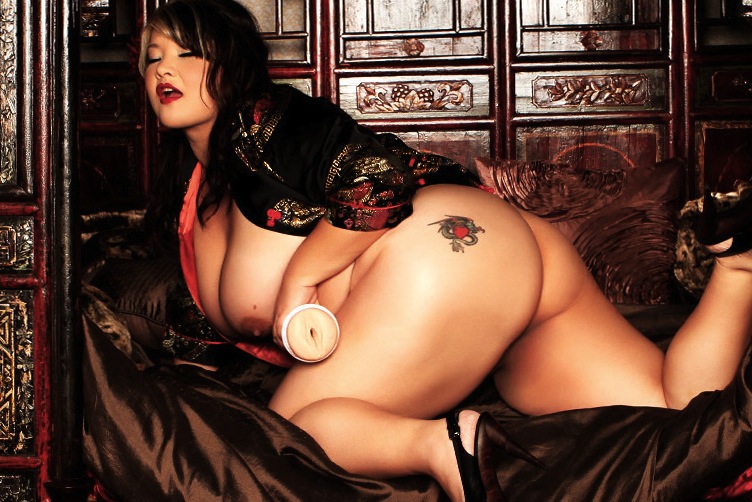 Enter the name "Kelly Shibari" into Google and the first result you'll get isn't a Wikipedia entry, podcast interview, or guide to the art of Japanese rope bondage, it's a sponsored advertisement for Fleshlight. To be more specific, it's a Fleshlight ad promoting the company's latest Fleshlight Girl, whose vulva has been cast in a mold for your masturbatory pleasure. To be even more specific, that new Fleshlight Girl is none other than the reigning queen of BBW porn, Kelly Shibari.
For those who've been living under a rock these past few years (at least where porno's concerned), Kelly Shibari is the Japanese-born, LA and Vegas-based adult superstar whose ample figure and indomitable attitude has helped bring about a renewed interest in all things Big, Beautiful, and Womanly. As if she didn't have her fingers in enough porn-related pies – she's also a producer/director, runs three websites (Padded Kink, Kelly Shibari XXX, and The PRSM Group, the latter a social media marketing consultancy firm), a sometime host of Playboy Radio's 'Night Calls' show, has won a Feminist Porn Award, played the title role in Roseanne: The Parody XXX, and was even featured in a video for German metal band Rammstein's song 'Mein Land' – Kelly now takes a starring role of a very different kind as one of Fleshlight's flagship models. With her privates now immortalized in Fleshlight form for her growing legion of ardent admirers to fuck, you'd think Kelly'd take a bit time off, but instead she's set to unleash upon porn fans her debut feature-length DVD release, Kelly Shibari is Overloaded. Oh yeah, and she directed the damn thing, too!
Overloaded, which hits retail stores September 26 but has already managed to top the Videos4Sale best-seller list for four consecutive weeks, shows Kelly celebrating Japan's recent victory in the FIFA Women's World Cup by performing for the very first time a blowbang and bukkake scene in which her co-stars are none other than the fans she's been tantalizing and entertaining all along. Twenty lucky fans managed to ace the health tests Kelly rightfully required and participated in the event, which now takes top billing on her forthcoming DVD. Also on the menu are a number of other firsts for Kelly: her first group sex scene, first anal creampie, and first double-vaginal with creampie.
Best of all, folks, Kelly (along with Fleshlight, Exile Distribution, and Monarchy Distribution) is running a "Pink Ticket" contest that will result in one extraordinarily lucky fan being the recipient of a personalized erotic video shot by Kelly of Kelly exclusively for their own personal use with (you guessed it) a signed, personalized Kelly Shibari Fleshlight. And just so other fans don't feel left out, anyone who buys Kelly Shibari is Overloaded on DVD will find a discount code inside that'll allow them to wield their very own signed, personalized Fleshlight so they too can fuck Kelly 'til their heart's content… or 'til it sputters out from all the excitement.