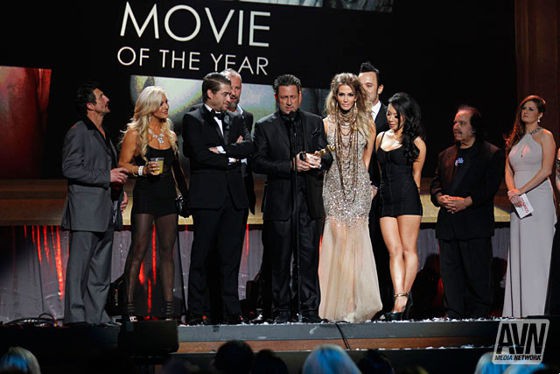 While it's usually the women standing at the podium holding a glistening phallus that get the most attention at every annual AVN Awards, the men of porn are equally congratulated on their work in and out of the hottest pussy on the planet (if you can call that work). And it wasn't just performers who got hailed as the year's best at the MGM Grand in Las Vegas this Saturday past, those behind the camera got their fair share of attention, too.
Continuing a string of unprecedented success stories, Axel Braun nabbed his fourth consecutive Director of the Year award while his films Man of Steel XXX: An Axel Braun Parody and Iron Man XXX: An Axel Braun took home another two trophies and proved that all of the accolades might have finally gone to Herr Direktor's head. The closest any other director or producer came to equaling Braun's 2013 successes wasn't very close at all, but you've still got to hand it to Manuel Ferrara: he not only shot an insanely wild reverse gangbang in late fall, he polished off the season as the man behind the winners of AVN's Best All-Sex Release (Slutty & Sluttier 18), Best Anal Series (Evil Anal), and Best Continuing Series (Slutty & Sluttier). That, of course, is in addition to his fifth Male Performer of the Year trophy.
The other stud who no doubt left Vegas more professionally gratified than ever before was Best Actor Tommy Pistol. Having taken roles in everything from Thor XXX: An Axel Braun Parody to Combat Zone's Vagina Worship to 3rd Degree's Young Thighs in Knee Highs, Pistol spent much of his eighth year in porn assisting in the productions of others. With Band Sluts, though, he was handed a role tailor-made for his comedic and physical talents by his director and leading lady, Joanna Angel. The Burning Angel feature sees the two gag-happiest people in porn embark on a road trip in search of "fame, fortune, and fucking," capturing every dismal artistic failure and boner-fied sexual conquest in a hilarious rock 'n' roll epic. Fuck Fellini and 81/2 and The Rutles and Zelig and all that shit! Band Sluts is the only mockumentary worth watching sans pants!