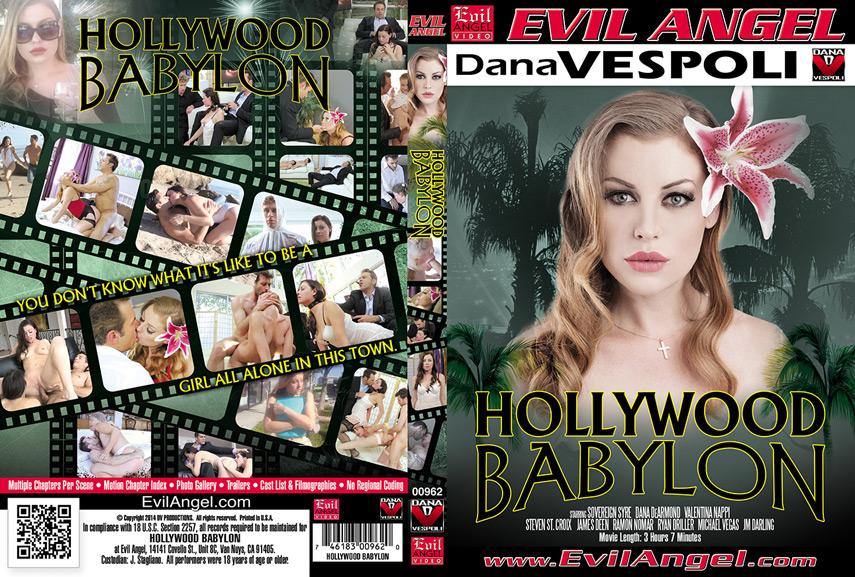 Having been climbing the porno ladder since starting as a performer 2003, the latest woman to join Evil Angel's directorial roster, Dana Vespoli, knows a thing or twenty about Hollywood and she's putting some nuggets of wisdom and a few of the more sordid anecdotes into her latest feature, Hollywood Babylon.
Due for release at the close of this month, Hollywood Babylon sees Vespoli drag her female lead, Sovereign Syre through the proverbial mud of Tinsel Town as she aims for the money, glamor, and fame stardom brings. Calling her newest Evil Angel effort "part love letter to Hollywood, part meditation on the notion of reinvention, and of course an exploration of twisted, psycho-sexual relationships," Vespoli claims the idea came to her quite simply, by asking herself a question: "What if a girl came to Hollywood and became involved with a psychopathic plastic surgeon?" Played by porn's most popular male thespian, Steven St. Croix, said plastic surgeon doesn't limit his treatment of Syre to office appointments, inviting her to partake of a little familial loving with he and his wife (played by Dana DeArmond). Hollywood psychos seem to be a problem for Syre, though, and she becomes embroiled in a detective story that sees actor J.M. Darling attempt to sniff out the truth. Hell, it even sees Ms. DeArmond fire a handgun right into the camera lens for an altogether more shocking scene than even her most intense DPs.
With Vespoli keeping the budget of her mini-opus down to only $18,000 yet somehow managing to cast some of porn's most talented fuckers – Syre, DeArmond, St. Croix, James Deen, Ryan Driller, Roman Nomar, and Italy's latest, greatest, most curvaceous import, Valentina Nappi – Evil Angel couldn't be happier. "[Features are] something we don't usually do at Evil Angel," said the company's Justin Rich, "but Dana has the filmmaking chops to do it well." And, when it comes to psychologically dark feature porn, there's no better or more adventurous director currently working than Dana Vespoli. That much is certain.
Hollywood Babylon is to be released by Evil Angel on April 30, 2014.