For some performers, working in porn is a means to achieving an education, fame, or crossover over into less traditionally reviled industries. For a select few, the notoriety they found through porn led to a rather unusual second career in politics. Nikki Benz has run for mayor of Toronto but Cherie DeVille has her sights set on a much more powerful office: the White House.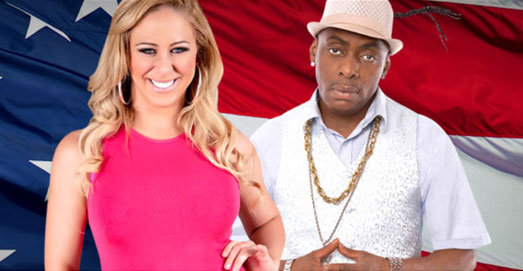 DeVille, who has her doctorate in physical therapy, spent many years in the nation's capital, growing up there but spending summers in Cape Cod. (Another political cliche – she just might have a shot!) Having officially announced her intention to run for the office of President of the United States of America, the multi AVN winner has clearly followed the example of the current boss, Prez-45, who proved anyone famous enough and determined enough could surprise the fuck out of everyone and actually win! DeVille knows that a winning campaign needs an excellent staff and the confidence of a worthy cabinet. To that end she has called upon Kennedy Summers (third-year med student; Healthcare Secretary), Alix Lynx (communications major; Press Secretary), Khloe Terae (jet-setting model; Foreigns Relations Secretary), and Grammy Award winning rap superstar Coolio as her second-in-command, the Vice Prez.
Remarkably – or not given the w-w-wacky world we live in – the DeVille/Coolio ticket isn't as absurd as you might think. A look at their platform reveals a clear desire to tend to the needs of all Americans and, with a damn doctor and a Grammy Winner on board, you know they've got the skills to pull it off (in some form or another). Sponsored by FuckingAwesome.com, the DeVille/Coolio campaign should be a hoot to watch , and most likely not a particular destructive one either, so grab your popcorn and/or tissues, folks!
Not only is uber MILF DeVille pitting herself against an incumbent and a slew of no doubt more "respectable" candidates, DeVille has also just relaunched her official CherieDeVille.com website on the Crush Girls network. Taking place alongside newcomers Violet Starr, Alyssa Cole, and Ryan Riesling, DeVille joins her fellow super-MILFs Romi Rain, Briana Banks, and Brett Rossi to solidify Crush Girls as an irresistible gathering of the most devoted and independent pornstars working today.