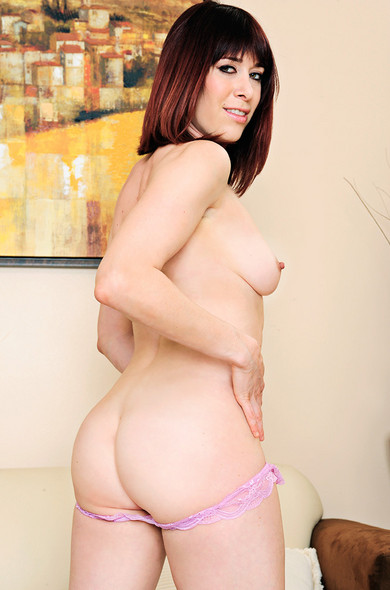 Last year I had the distinct pleasure of seeing the inner workings of Kink's headquarters in the historic San Francisco Armory, a tour shepherded by a woman named Odile. Outfitted in a corset with died red hair cut into square bangs, Odile giggled nervously when describing the use of certain rooms in the fortified studio space but lit up when asked about her own experiences shooting for Kink's orgiastic Story of O-inspired banquet hall, The Upper Floor. Odile now moves from a barely visible Kink performer out-shined by most prominent name pornstars to, well, hopefully one such pornstar herself.
San Francisco-based Odile, whose unusual name was chosen in honor of the Story of O's infamous protagonist, enlightened AVN of her recent move into standard hardcore fare. While her existing Kink work has seen her bound and gangbanged in public fucking fantasies, trained as a submissive slave, and generally treated like a voiceless sexual object, nothing she apparently didn't want.
Odile declared to AVN her love of group work, saying she wants "as many hot bodies there as possible, all groping and feeling and fondling each other, filling as many holes as possible." While her first slate of mainstream work – for Naughty America's My Friend's Hot Mom and B. Skow's 'Daddy's Girls' (soon to be released through Girlfriends Films) – doesn't come close to the audacity of her work for Kink, Odile aims to put her own spin on hardcore and is willing, she says, just about anything.