Celebrating the death of the Christian deity's human form might seem like an odd reason to stay home, watch some world-class porn, and beat yourself into a blissful submission to smut, but… Well, no "buts," really. It's just plain weird. If you're irreligious or non-Christian and couldn't give a flying jizzbomb about church holidays, if the Easter Bunny and the commercial thrills available around Easter are more your bag, then watching porno makes a hell of a lot of sense for your long weekend activities. Here we'll be looking at four Easter-themed scenes from major porno outlets all intent on helping you celebrate in their inimitable style.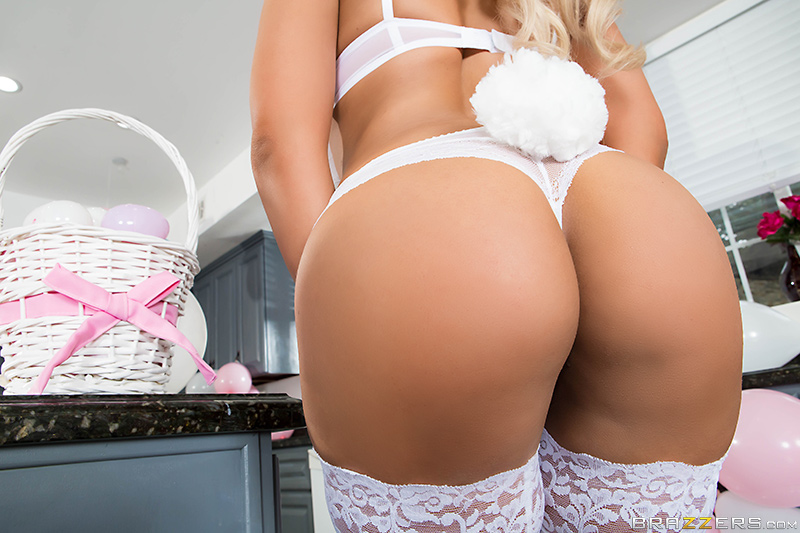 Brazzers is hitting its fans with two Easter episodes this year, one each for Big Wet Butts and Teens Like it Big. At Big Wet Butts we'll be seeing Bridgette B and Bill Bailey romp around their kitchen and eventually wind up filling Ms. B's bunny-tail-adorned ass as oil covers her fine-as-fuck body in a shiny film. Teens Like it Big welcomes the recently slimmed-down Tiffany Watson, bunny ears on her head, a tutu around her waist, egg basket in her hand, as she joins her stepbrother Jessy Jones for an egg hunt. Flirting and flashing her bro, Ms. Watson reveals a pink jeweled butt-plug and asks Jessy to fill her other cavities before Dad walks back in the room and busts them both.
Team Skeet sister-site Family Strokes continues the pseudo-familial affairs as "Uncle Mitch" dons an Easter Bunny costume and starts making moves on Avi Love. Her parents grab an iPhone and snap some family selfies with the Bunny in the background, but mom and dad remain totally obvious to the fact that Avi's hand is firmly wrapped around his rigid rabbit dick. The folks head out for a while and Avi Love vs Easter Bunny kicks into higher gear.
"Let's Try Anal," says awesomely hot newbie Cecilia Fox over at the Mofos site of the same name, after finding a bottle of lube and a bunny rabbit plug as part of her boyfriend's homemade egg hunt. And try anal she does, bending over and giving herself to her beau, bunny ears bouncing on her head the whole time.
Now, if you'll excuse me, I've got to run off and find a last minute bunny suit in a desperate attempt to turn my Good Friday into Totally Fucking Awesome Long Weekend.