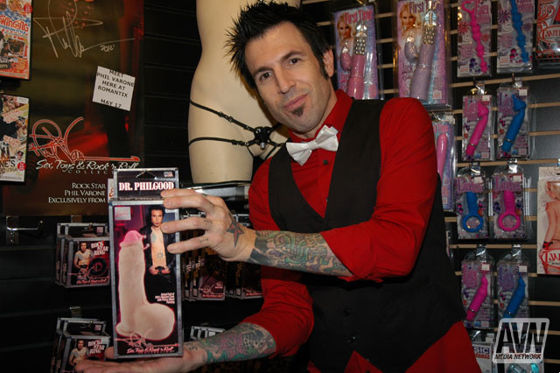 Unless you're Tommy Lee of Motley Crue (and Pamela Anderson sex tape) fame, being a drummer in a hard rock band doesn't exactly equate to any kind of career in the sex industry, but Phil Varone of Skid Row is out to change all that. California Exotic Novelties, one of the leading producers of sexual aids in the USA, has signed the tattooed tub-thumper to a partnership that see Varone extend his already well established line of sexual products into the toy and novelty arena. (The drummer has already unleashed Phil Varone's Secret Sex Stash, a feature-length sex tape compilation documenting his wild backstage antics both in and out of groupies' pussies.) Dubbed Phil Varone's Sex, Toys & Rock 'n' Roll, the product line launched back in May and is already making a splash.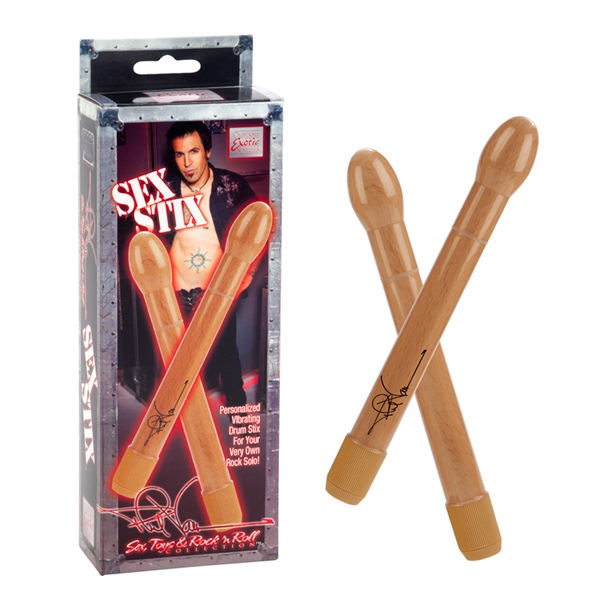 The flagship product of Varone's novelty line comes, not surprisingly, from a cast of the man's member. Claiming to be the world's first dong with a Prince Albert piercing, Dr. Philgood comes in vibrating and non-vibrating versions and presents its users with six inches of insertable shaft with a circumference of six-and-a-half inches and a nickel-free stainless steel semi-circular piercing. Varone's latest endeavor isn't purely a self-congratulatory exercise, though, and his other products prove that. The Cock-toban Penis Pump allegedly aids penile growth. The All Access Vibrating Pass comes in red and black and is a bullet-shaped vibrator with handy wrist strap. Erections can be enhanced and extended with the Ghost Rocker, while the Pierced Rocker cock ring adds a testicular support for additional stability. The line includes nipple clamps and cock rings galore, but peaks with Varone's Sex Stix, a pair of multi-speed vibrating drum sticks "for solo or ensemble performance" that come complete with Phil's signature scrawled on the shaft.
To take a peek behind the molding and casting process that produced readymade replicas of Varone's seasoned boner, check out this "long form" (lol) video.
THE LONG FORM VIDEO- MOLDING PHIL VARONE'S DONG from visionmind on Vimeo.