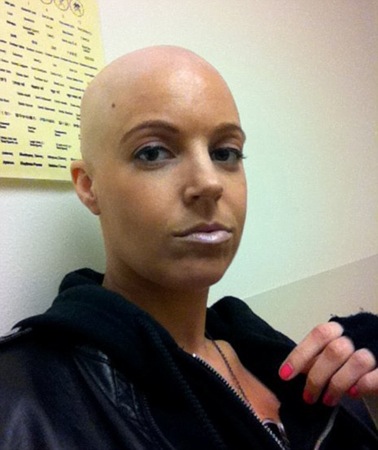 The economy, the Republican candidates for nomination, birth control, abortion, immigration, gas prices, off-shore drilling, American Idol, and tom-ay-to or tom-ah-to: these are some of the highly contentious and controversial issues we all have to adopt a stance on sooner or later. Staunch opponents of the Left will shoot down "Obamacare" at any opportunity. The Right-baiting Occupy movement calls for a radical dismantling of America's long-idolised super-rich elite. And Hollie Stevens has cancer.
"Wait, what? Hollie Stevens has cancer? Egads. Let's just hope it's not the titty cancer! It is? It is the titty cancer? Oh, fuck, we're doomed."
That's right, folks, it is with much dismay that I, Mr. Pink, bring you news of the ailing health of the blonde clown-porn pioneer. Although Ms. Stevens, known as much for her kinky, adventurous clown-themed photoshoots as for her thick ass and predilection for shaking it all about, overcame her initial bouts with The Big C thanks to a life-saving mastectomy, but was soon felled once more by a terrifying diagnosis. The cancer had not only reappeared near the initial surgical site, but it had spread to her bone. Then, as told by Laura Lasky on a donation page she setup for Stevens at Give Forward, it was discovered that more tumors had reared their ugly heads in Hollie's liver and right leg, and has "compromised her hip and leg as well as her chest wall and other breast." After undergoing chemotherapy and radiation, Hollie was once again hit with an unfathomably daunting task, battling another instance of cancer that formed in her right sixth rib.
When others would have simply given up and let things lead to the ultimate conclusion, Hollie steeled herself for another session on the operating table. While certainly not the sunniest of forecasts for this supremely asstastic adult sensation, this Tweet from the hospital-saddled Hollie herself and dated April 6th, four days after her date with the scalpel, is anything to go by, her career could be back on track sooner than you think.
Trying to have sex in my hospital bed with @ericcash, but keep getting interrupted by the stupid nurses.I can walk now, please let me out!

— HollieStevens (@holliestevens) April 7, 2012
Donations can be made to aid Hollie Stevens' recovery at Give Forward.