It's not much of a surprise when the folks behind the Nubiles Porn Network launch a new site, nor is it a surprise that these new sites are not, at least initially, directly attached to said network. Instead, held off as standalone entities they draw as much attention as possible on their own merit before being absorbed by an established hit. And then there's the obvious financial incentives… Some sites are too tasty to leave well alone until they find network integration; they must be seen as soon as is reasonably possible. After all, you'd hate to be waiting for something that never arrives and miss something incredible sitting right under your nose, wouldn't you?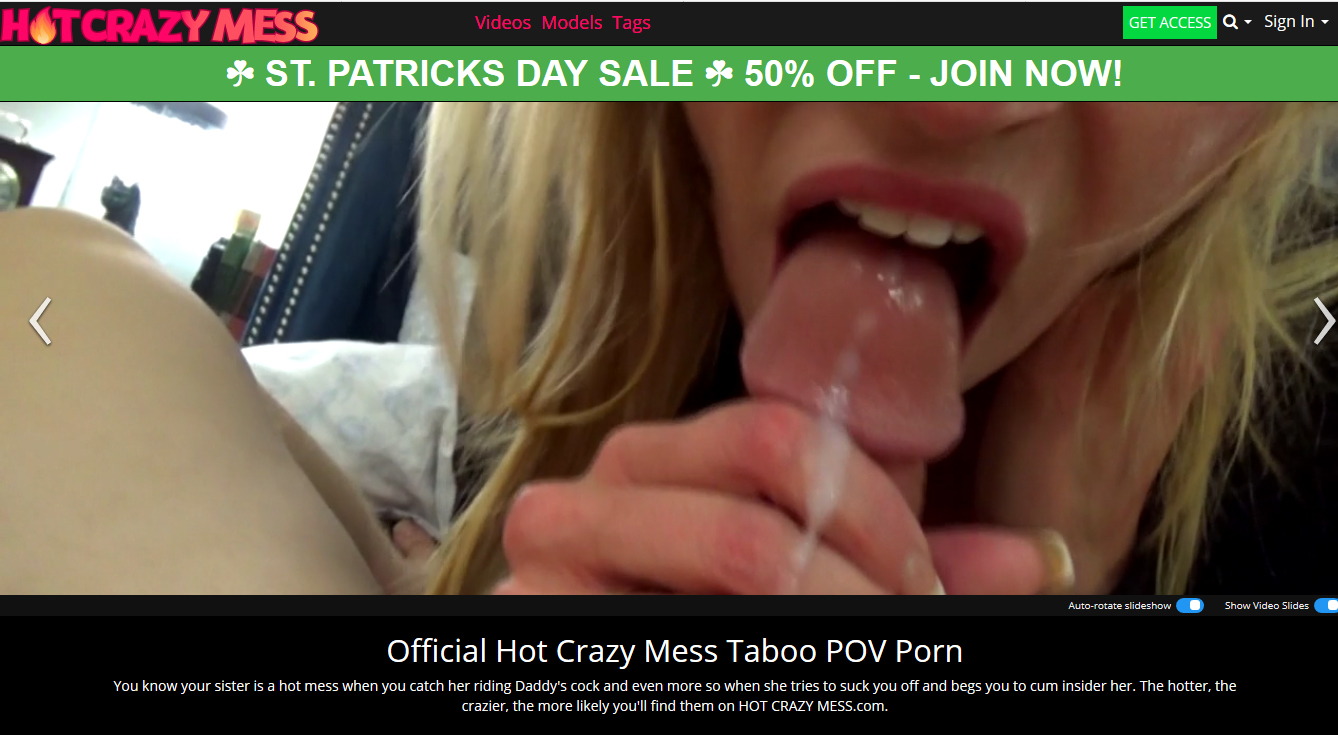 Hot Crazy Mess appeared only six months ago but has already gathered a tight little bundle of pure perversity that, to some viewers of custom clips and independent porn, may feel quite familiar. What appears to be natural lighting, a consistent POV camera angle, and sordid domestic affairs with gradual accelerations of flirting and foreplay, multiple sexual encounters per episode, and naturalistic dirty talk that, from the right woman, can be a serious mind blow all combine to make Hot Crazy Mess a steamy step-cest-heavy sleep hit. The leading man in many of these scenes, Alex Adams, is a fairly new face to many but hardly a new hand at this specific style of porn. In fact, he's a master. The mastermind behind Clips4Sale sensation and standalone site Family Therapy, Adams brings his style to Hot Crazy Mess without missing a beat. And Nubiles, or whoever's bankrolling this venture, should be commended for not pushing a more conventional semi-POV style.
Designed as simulations of hypothetical but not entirely unfeasible scenarios that blur the lines of ethical responsibility and two enflamed libidos thrust together despite their familial proximity – in other words, super hot and super taboo sister, mother, and daughter fucking (for the most part) – Hot Crazy Mess (and Family Therapy) don't aim for perfection. Life isn't perfect and sex sure as hell isn't either, so why should porn that aims for realism also aim for perfection? For the viewer to feel as close to present in the depicted scene as the technology can make possible, shadows and physical collisions, and confusion over positions, as well as obscured, imperfect views of "your" partner all contribute a great deal. There's arguably no better example of such immersive realism in porn today outside of Virtual Reality, and even then, it's a close call. Speaking of which, will someone please give Alex Adams a VR development deal?
Hot Crazy Mess delivers weekly episodes of taboo domestic lust in 1080p HD. Family Therapy hasn't updated since Adams started devoting his energies to this new venture but it does hold a mammoth archive of more than 750 step-cest and assorted socially taboo sex and is one of independent fetish porn's best kept secrets.