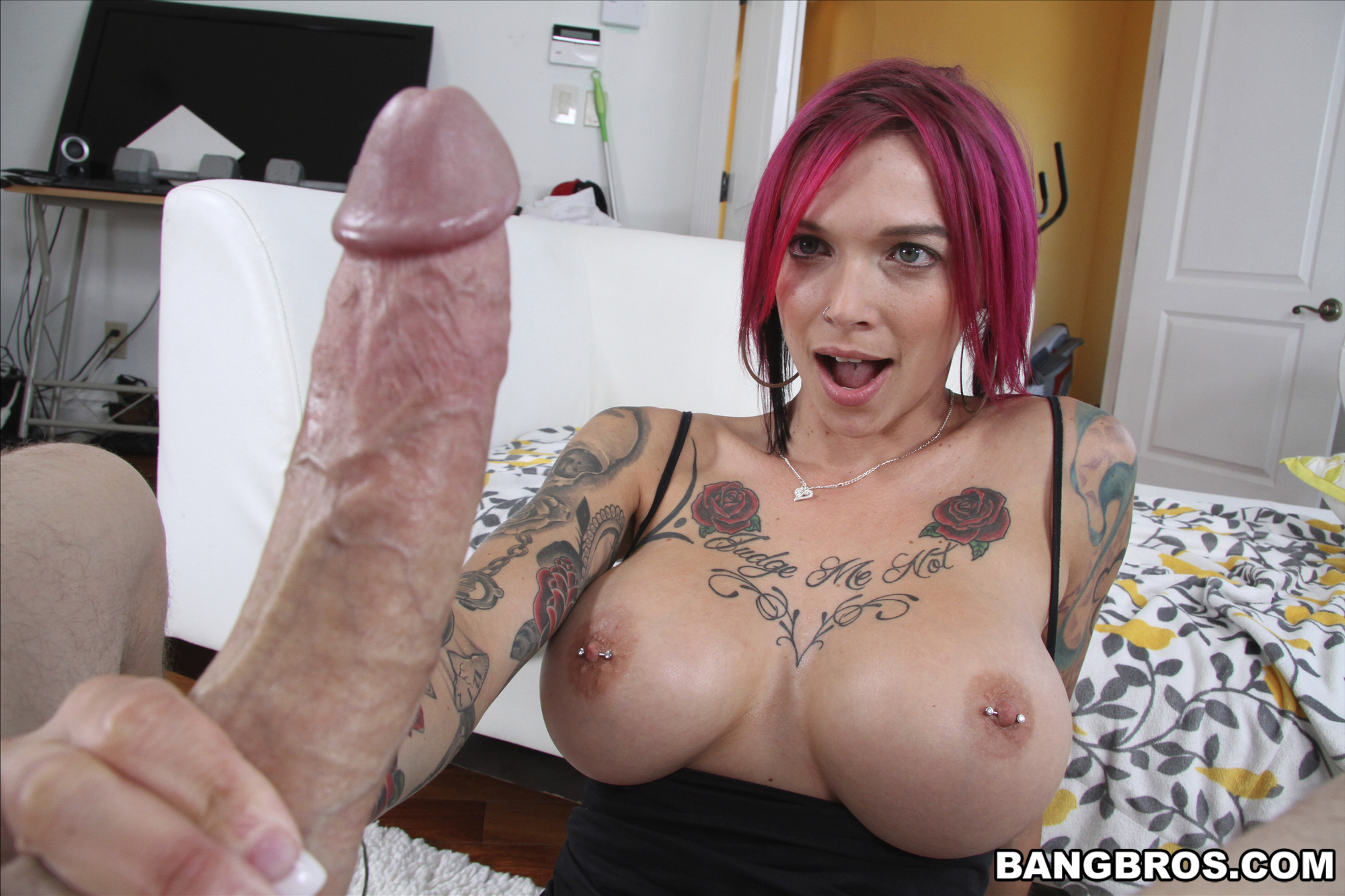 A few months into 2015, I started to notice a heavily tattooed and very curvaceous pink-haired woman slutting it up on the Internet. Tattoos have become a lot more common on pornstars in recent years, but this particular bodily canvas was far more heavily decorated than most, and that pink hair, now that you notice immediately. First she popped up at MyFreeCams and looked a damn sight more interesting than most of the dull, spiritless camgirls you usually see there. Then I noticed the same pink hair and ample rack over at Pure Mature, where the exquisite photography cast this mysterious woman in an altogether more flattering light. And finally, here appeared her name: Anna Bell Peaks.
It's been a big year for Ms. Peaks, with two Inked Awards for Cam Girl of the Year and Perfect Pussy, interracial maniacs Dogfart according her runner-up in their monthly popularity contest for December, an AVN nomination for Hottest Newcomer, and now an accolade to beat all those others (unless she nabs the AVN): Bang Bros has named her their Pornstar of the Year for 2015.
Carrying a 97% approval rating from Bang Bros members with a combined 327,993 views of her three scenes, two for Bang Bros Clips and one for Big Tit Cream Pie. Standing 5'6″ with an amazing 32G-25-32 figure, ink all over, and plenty of piercings, Ms. Peaks pushes towards Belladonna and Bonnie Rotten territory while remaining a sensual performer, never quite becoming the obscene hyper-whore foaming at the mouth as those two are known to. That's not to say Peaks is boring. In fact, she's far, far from it with incredible oral technique, a frequently filthy mouth, and a body that, when in motion, is impossible to stop gawking at.
Ironically, Anna Bell Peaks, who now asks her fans and admirers to vote for her at AVN, sports a rather prominent tattoo across her upper chest reading "Judge Me Not." Well, at least it doesn't say "Don't vote," 'cause then she'd be fucked – and not in that always exciting Bang Bros way, either. Thanks heaven for small miracles – and for 2015's most scintillating alt.newcomer Anna Bell Peaks.