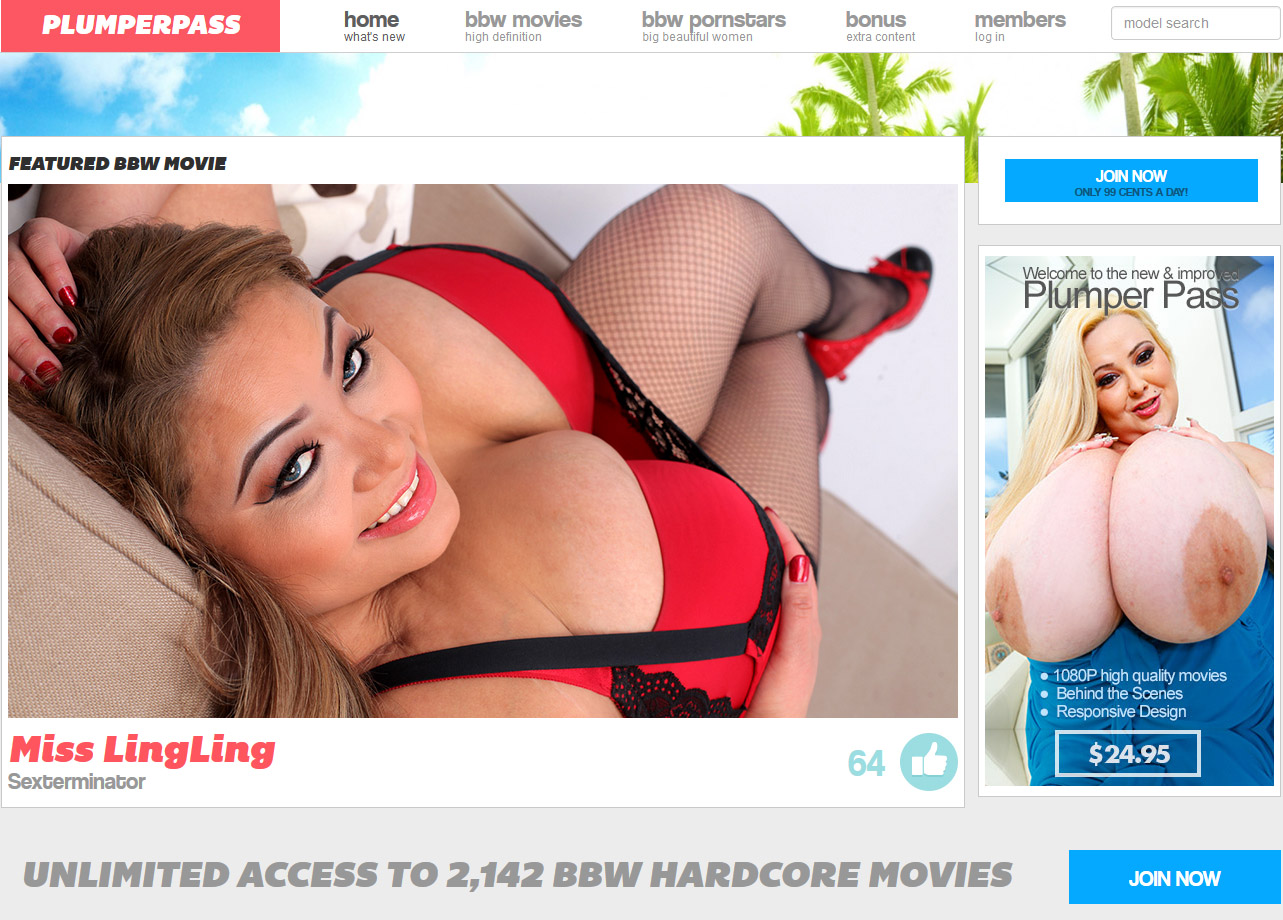 The recent wave of discussion about body acceptance, self-love, and the fat-shaming phenomenon has led to one outcome that's a lot more entertaining and interesting than so many Tumblr and Twitter-based body-positivity campaigns and campaigners: there's a lot more high-quality BBW porn around lately! One of the more notable BBW sites currently experiencing an upswing in attention is Plumper Pass. Once a six-site network, now operating as one smashing super-site, Plumper Pass is sporting a fresh design and a slate of new models that put the "umph" in "pornographic triumph" and bring their amply proportioned physiques to your small screen in crystal-clear 1080p HD videos and 2000px image galleries. What's more, Plumper Pass, like its models, is overflowing with appetizing treats, just this Monday past adding its 2,157th scene. Unlike many sites content to do as little as possible to part you from your money, Plumper Pass aims to make sure its members are well fed and kept happy. Behind-the-scenes videos accompany most of the masturbation, girl-on-girl, or straight hardcore scenes added in the past few years. Go back further into Plumper Pass's archive and quality may be lower but, with the authenticity ramped up with semi-amateur women, there's still plenty of sexy plumper-pounding action to be had.
Those BBW admirers that equally enjoy watching their favorite beauty swan around and gradually undress as they do her test her dick-sucking skills and cowgirl stamina will really appreciate all the behind-the-scenes material, much of it giving valuable insight into the models' personalities, working demeanor, and sexual interests and experiences. Factoring those videos into the following dollar-based breakdown keep their contribution in mind. So, just how good a deal is Mr. Pink's brand spanking new $19.95-a-month Plumper Pass discount deal?
THE MATH:
Plumper Pass currently holds 2,157 mainline scenes along with about 150 BTS videos for a total video count of 2,307. With membership now down to $19.95-a-month from the usual twenty-five bucks, each of the scorching hot BBW-starring softcore and hardcore delights held within Plumper Pass's sexy and secure walls costs less than a single cent each, 0.86¢ to be reasonably precise.
Find me another BBW site of this caliber that so affordably delivers "the goods" and, hell, I'll review and blog about that one too! Until then, it looks like it's Plumper Pass all the way.