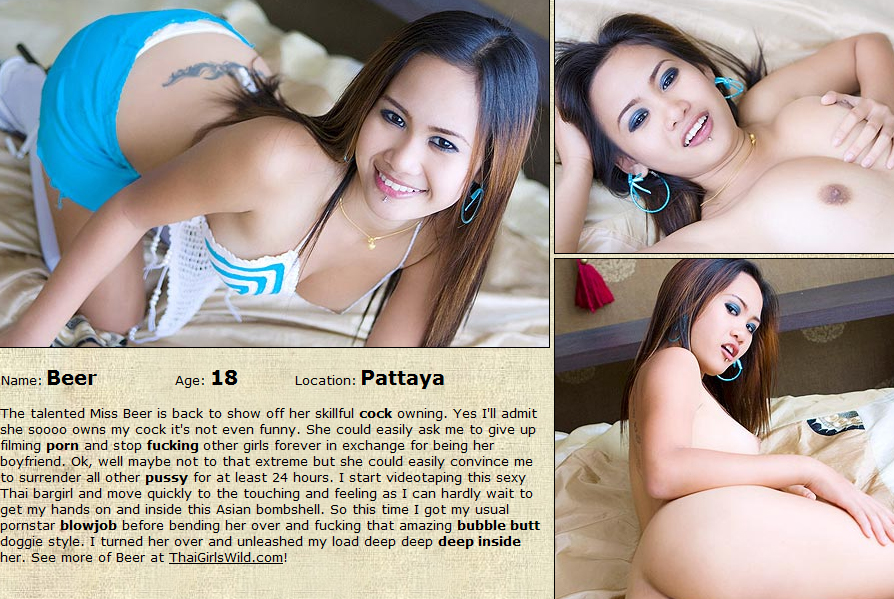 This week's edition of Mr. Pink's Wacky, Strange, Bizarre, Curious, and often Downright Funny Porn Star name of the week brings you Beer! Beer? Yes. Beer.
While reviewing Creampie Thais one name stuck out among other notable names such as Eaw, Chompoo, Bli, Mew, Nuk and Visa. Beer! Ok, so all of these girls are Thai so I should have expected some curious names, but Beer? Gotta love it! It's perfect. Most men love beer. Beer and women. Why not combine the two?
Beer is an amazing 18 year babe from Pattaya. Sporting seductive eyes, a delicious bubble butt, and a name you will never forget, Beer will not leave you with a bitter after-taste, room-emptying farts, and a massive hangover but she will leave you wanting more. There is one issue that will leave you crying in your Beer. Creampie Thais no longer updates. What a shame.
Mr. Pink's salutes you Beer and your perfect porn star name. Keep on creamin' and hopefully you will pop up in another site or two.