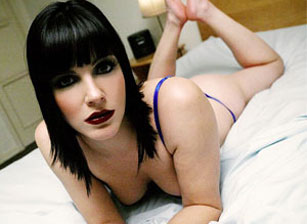 Evil Angel has long been a company devoted to allowing porn's most talented performers a chance to direct their own productions. Having made an adult auteur of Belladonna, Stagliano and co. handed Bobbi Starr a contract and a budget and told her to basically do whatever she wanted. After the success of her first three feature-length DVD releases, Bobbi's World, Shut Up and Fuck, and Vicarious, each of which offered a view into Ms. Starr's constantly evolving sexuality with plenty of rough hardcore, girl-on-girl fucking, and incredibly intimate POV-shot scenes, Evil Angel is set to unleash her latest creation, a feature quite simply entitled One.
"One is many things. It's a song by U2. It's a song by Metallica. It's a song by Three Dog Night. But in my case, One is a solo masturbation movie featuring Kara Price, Tori Lux, Julie Night, Asa Akira and, of course, myself." While Bobbi's knowledge of popular music history might not be top-notch – respect where respect is due; Three Dog Night's One is horrendously overwrought cover of the spare, beautiful Harry Nilsson tune – her performances are always vibrant and thrilling, even when she's not wrapping her ass around a stiff dick or fisting a fellow pornstar babe. With such a luminous lineup, One is sure to set your fires a-burnin', Pink fans, in ways only Bobbi Starr, performer/writer/activist/director, can muster.
Explaining her vision, Starr says One is not a "pretty, milquetoast" female masturbation movie of the kind you'd usually see in mainstream porn. "There are fetish themes, which my fans will identify as something I return to often, as well as lots of latex. This is a movie about women literally taking control of their own orgasms."
About. Fucking. Time.