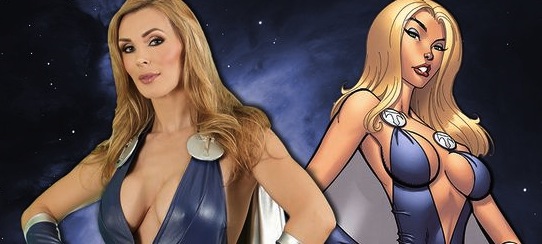 We all know (and presumably are attracted to) Tanya Tate, right? She's that dynamite blonde Liverpudlian who recently branched out from performing in adult films to directing adult films (Tanya Tate's Runaways and Tanya Tate's Tea & Muffin Party, anyone?), and the latest in a continuing line of adult performers immortalized in comic book superhero form. After Pamela Anderson's and Stan Lee's Stripperella, Penthouse Comix, and numerous "parody" publications filled with explicit Fantastic Four-ways comes Tate's very own creation, Lady Titan launching this weekend at San Diego Comic Con.
After building a thriving fanbase with her combined careers in hardcore porn and cosplay modeling – the latter sending many geeks plotzing with her renditions of Emma Frost, a foxy female Green Lantern, Catwoman (the Julie Newmar version), Black Canary, and She-Ra – Tate now moves more directly into the world of genetic mutations, freak biological accidents, villainous monsters, and caped crusaders of justice. And she's doing it at the world's annual comic-fan clusterfuck: San Diego Comic Con 2013.
Created with artist Mikel Harvey and colorist Simon Gough, Tate's titular heroine has an origin steeped in live-action superhero television lore. Lady Titan begins as an out-of-work actress finds her recently acquired vintage costume outfits her with the powers of the 70's TV superhero that once wore it onscreen. Tate boasted, "The character herself is not a 'Superhero' but someone thrust into that role; partly because of her sense of what's right, but also her own survival. I think readers will have fun with Lady Titan."
Tate will be appearing at Geekscape's booth (#3919) at Comic Con all weekend, so if you're in San Diego for the festivities, be sure to stop by and check out Lady Titan in flesh, in print, and in limited edition 11×17 poster form (autographed by the lady herself, of course).