In preparation for a forthcoming fresh look at the Team Skeet network, I was doing a little browsing the other day and notice that alongside such network staples as Oye Loca, Exxxtra Small, POV Life, and She's New sat a handful of new sites that may or may not already or soon be part of the Team Skeet network package. While we at Mr. Pink's will endeavor to bring you full reviews of each site as they increase in size, scope, and prominence, here's a sample synopsis of what the Skeet crew have been up to lately.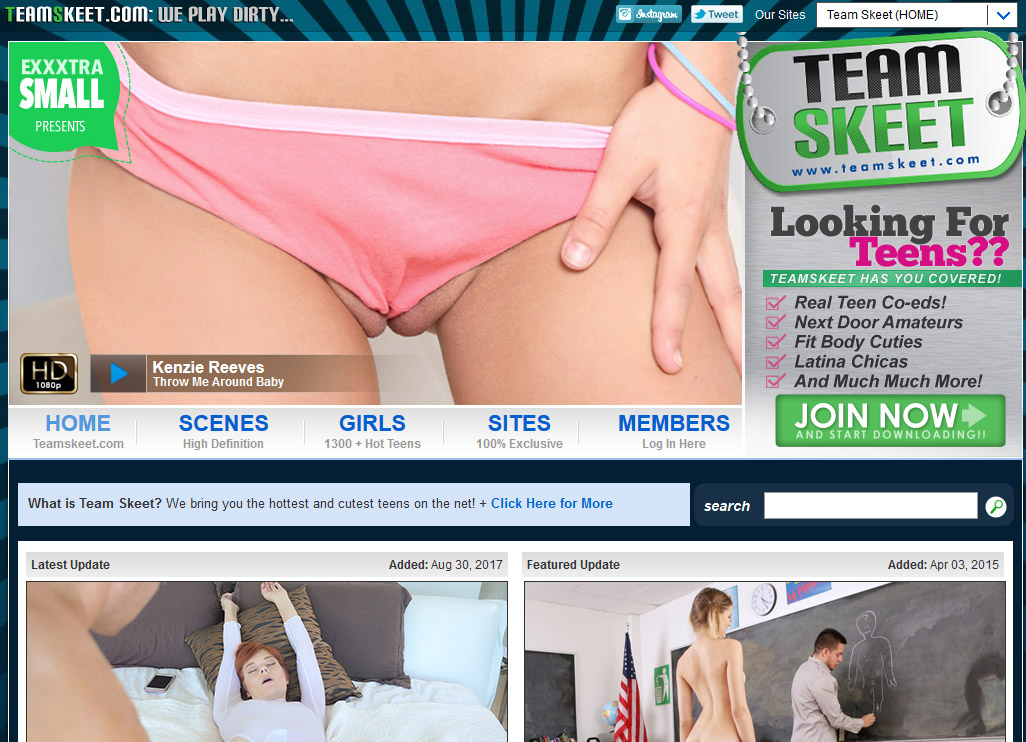 Bad MILFs taps into the current wellspring of interest in pseudo-incestuous porno, roping in mature stars to teach their younger colleagues a thing or two about the ways of love. Usually seen with both a young stud and a young hot twenty-something girl heeding her words of advice, the "MILFs" take charge and ensure plenty of dirty talk, instruction, and coaching for all those who appreciate a little raunchy banter with their graphic three-way sex.
Surely a site to grab the attention of redhead-lovers everywhere, Gingerpatch delves into the panties of natural redheads and reveals that, yes, the carpet does indeed match the drapes. Starring a roster of mostly young fresh faces of girls like Ava Little, Abbey Rain, Krystal Orchid, and Alice Coxxx, there's a lot to love about this teen-focused romp-fest.
BraceFaced welcomes all those young women for whom high school was a barrage of insults aimed at their metal-clad mouths. The likes of Kharlie Stone, Veronica Vega, Karly Baker, and perfectly curvy Daya Knight all manage not to get pubes stuck in their dental work while going to town on a thick cock. Semen, on the other, doesn't just get stuck there but all over their smiling faces.
When guys get rough with women, some viewers will balk and tune out, but when women get rough with each other… Well, that's kinda stupidly hot! Dyked hosts aggressive lesbian sex that borders on kink with plenty of adventurous dildo play, intense insertions, and just enough narrative drive to keep you entertained between thunderous orgasms.
Now, speaking of guys getting rough with women, Submissived takes that mantle for the Team Skeet empire and drives a pretty tough challenge to other kinky sites and networks out there. Already holding 86 scenes after just being launched, Submissived even goes so far as to blur out the faces of the male offenders, men playing priests, delivery men, stalkers, and otherwise abusive, dominant bastards who take advantage of the girls' naivety to get their dicks wet in whatever way possible.
Black Valley Girls finally brings Team Skeet to one of its most unaddressed areas of today's vibrant porn world, namely the large number of smoking hot young black women performing their asses off and rarely getting the recognition they deserve. Here playing spoiled rich Valley Girl-types, Daya Knight, Jenna Foxx, and Julie Kay are among those women how'll grab and hold your attention on this newest of Team Skeet sites.
Those wading deep into incestuous waters will find plenty to enjoy at the handful of other new arrivals to the extended Team Skeet empire – Family Strokes, Sis Loves Me, Dad Crush, and Daughter Swap – each of which takes a slightly different approach to fucking your extended family.
Watch for a brand-new review of the entire Team Skeet network coming up in the next few weeks here at Mr. Pink's and, as always, keep a close eye on what's happening Skeet-side, 'cause it's bound to be as outrageous as it is sexy.