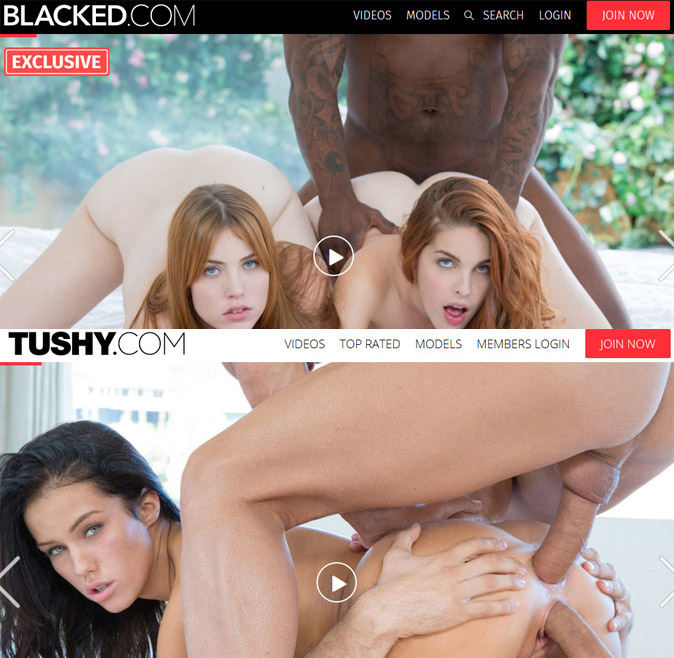 The Thanksgiving holiday period can be a contentious one. Those eager to stimulate the US economy (read: buy shit) are thrown into a tizzy over Black Friday bargains while anti-corporate types hurl insults and 'Feel the Bern!' Historically-minded folks either commemorate the Pilgrims' first harvest in the New World or rue the colonist eradication of Native American life, land, and culture. One thing we can all agree on, however, is that giving thanks to those who've supported you over the last year is a soul-nourishing act. Hell, even the deviant folks behind interracial porn emporium Blacked and all-anal adult wunderkind Tushy are giving thanks to their fans and followers, opening the porno version of Black Friday sales season with a two-for-one deal you won't want to miss.
As you'll no doubt discover in Mr. Pink's fresh reviews of both Blacked and Tushy, each site is a treat for fans of interracial and anal sex, and for those with a keen eye for outstanding new porn talents. The sites are not, however, especially large. That makes this edition of Beating on a Budget a little different. The numbers might not point to a great deal, but at half-price, a two month jaunt inside this pair of freshmen HD porn sites should not be missed. Paying $29.95 for 60 days' access to two of the fastest rising adult sites, each offering up exclusives in their niche with a roster of impeccable talents like Riley Reid, Anissa Kate, Carter Cruise, and James Deen
THE MATH:
Blacked holds 91 scenes and adds another every five days. At $14.97-per-month ($29.95 for 60 days), each scene currently online comes to about 16¢ a piece. Not as astounding a deal as some we've featured in the past, but again – DAT QUALITY!
Tushy is even smaller, updating weekly and only holding 32 scenes at present. Also available for $14.97-per-month (in a 60 day package), Tushy's scenes cost roughly 47¢ each. Considering pay-per-view rates charges by most mainstream porn providers, that's a very fine deal indeed. And again – OMG! SO VISUALLY STIMULATING!!
Clearly anyone with an inclination towards either interracial or anal porn of the highest quality technically, artistically, and erotically should make haste towards the sign-up pages of Blacked and Tushy, where you can now ring in the Black Friday deals with a killer porn package of your very own. And remember, at half-price, you could always indulge in Tushy's anal adventures and Black's racially harmonious banging both, scoring 60 days access to two incredible sites at half-price and ensuring your holidays are draining in the best possible way.