AVN-nominated adult performer, animal lover and avid horsewoman, self-proclaimed nerd, and noted "genuine, cool person," Amber Rayne passed away Saturday from what is being termed "a possible accident or overdose" at her home in the Stonehurst District area of Los Angeles's Sun Valley. She was 31 and a veteran of ten years and more than 500 screen credits.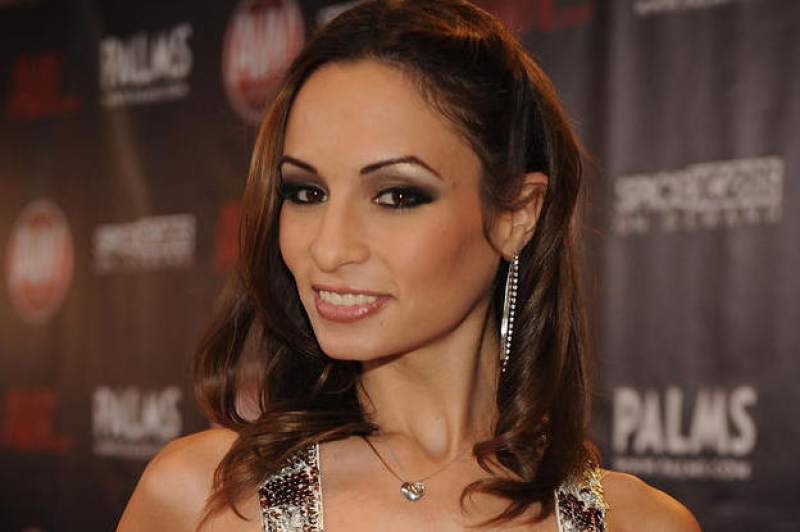 Rayne had made a brief return to the screen after retiring in 2015 to star in Stormy Daniels's western epic, Wanted, fulfilling a promise made to Daniels six years prior. Putting her lifelong passion for horses to great use in the saddle-sore-saddled Adam & Eve production ushered Rayne to her sixteenth AVN nomination, this time for Best Supporting Actress. Having won AVN's Unsung Starlet of the Year trophy in 2009, Rayne held an enviable position in the industry, respected and well-liked by peers and colleagues, revered by fans for her unrepentant carnality, and well-spoken, clear-minded, and mature in interviews while being lauded for partaking of 50 Guy Creampies and double-anal-fisting sessions.
Rayne's notable contributions to numerous adult studios deserves special mention. In Jay Sin's Anal Acrobats #4 and Bonnie Rotten's B For Bonnie, paired with Hillary Scott and both Rotten and Vicki Chase respectively, she expanded her horizons both hetero and lesbian for Evil Angel, and in Open Ended #2 even took a baseball bat inside her ass for Jonni Darkko. Kink.com welcomed the avowedly deviant Detroiter, booking her for more than sixty scenes including a handful of incredibly powerful all-female wrestling bouts at Ultimate Surrender.
Having survived uterine cancer in 2013 but worn down by what she called "relentless" chemotherapy, Rayne's attention shifted away from performing and became even more focused on raising her horses, her love of whom was noted by many who knew her and shared remembrances. The recent passing of her beloved Luuk, clearly had a profound effect on Rayne, as shown by her numerous Twitter declarations of grief.
…cont.dont know how to say goodbye right now but I can say thank you for reminding me how much fun it was to fly pic.twitter.com/MWBxZjOB62

— Amber Rayne (@Amber_Raynexxx) April 1, 2016
Reactions to the star's death were initially warm but soon developed a defensive side in response to some media outlets describing Rayne as "porn performer" yet ascribing her alleged rapist (and, surprisingly enough, subsequent friend) James Deen the title of "adult performer." Fans and friends took to Twitter to ensure Amber Rayne would be remembered with respect, touting her battle with cancer, her proud role as aunt, and her devotion to equestrianism.
Rayne's friend and collaborator, Stormy Daniels, spoke to AVN about the loss, calling her "a really good friend, and one of the best actresses and performers that I've ever had the pleasure to work with. I'm just glad that I had the opportunity to work with her and call her a friend."
Watch Amber Rayne discuss Wanted, retirement, saddle-sore, bondage-bruising, over-affectionate fans, porno professionalism, and the industry in general with Dick Chibbles of Adult News Flash in this January interview from the floor of the 2016 AVN Adult Entertainment Expo.