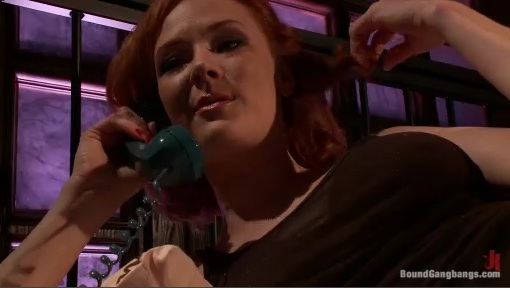 For what was starting to seem like an endless winter, Audrey Hollander, the soft-spoken redhead who seemed determined to shove every object known to man upside her anus, appeared to be on hiatus from her porn career, if not retired altogether. Having divorced her husband Otto Bauer, Audrey apparently decided to gain some perspective by stepping back from the industry that she had set ablaze with her trademark rough, frenetic anal penetration scenes. Now, with a sassy new hairdo and a recharged sexual energy, Audrey comes hurtling back to porn with one of her most powerful scenes yet.
As Audrey Hollander became synonymous with supremely rough hardcore sex, it shouldn't surprise her fans to discover that she quietly launched her on a Kink dot com website, in a late February scene on Bound Gangbangs specifically. Thrust into a bedroom set and pounced upon by four guys – or maybe five; it can be hard to tell in all the confusion – Audrey is, in the words of Kink's wordsmith, "brutally manhandled…gets two dicks in her ass, then two dicks in her pussy while in bondage!!!" Yup, true to the sites premise, Audrey spends almost the entire scene with both sets of limbs bound together or to her torso or to each other with thick rope, and somehow manages to cover role-play, bondage, double penetrations both vaginal and anal, fisting (in both all three orifices), spitting, slapping, breast abuse, choking and gagging, and messy semenal deposits both inside her and on her pale, freckled face and chest. Wow!
Such a potent scene would scare of most beautiful young pornstar women, regardless of their dedication to their work, but, as is her M.O., Audrey takes it all in stride and even ends the scene by promising she'll be back for more. Oh, and if you're bummed you can't check out Audrey's astonishingly brutal return without a Bound Gangbangs members, don't be; like those on all Kink websites, this scene is also available to stream or download through the network's pay-per-view system. Is that music to a hardcore lover's ears or what?