In a recent blog posted to her official website on the Puba network, everyone's favorite 420-friendly cock gobbler, the incomparable Charley Chase told her fans that although she was very sorry to disappoint them, she had to cancel plans for her first anal sex scene due to a "cut in the butt from [her] cleaning regimen." As she went on to explain in her May 15 missive, anal increases the risk of contracting sexual transmitted diseases and infections; to an STD or STI even the tiniest lesion is an open invitation to attack. Even though Charley expressed a great deal of regret and disappointment about missing yet another opportunity to show her devoted fans a sexual act that has in private brought her much joy, and even though she suggested her first anal scene, if it ever eventuated, likely wouldn't be for such an esteemed company as Elegant Angel… well, feast your eyes on this: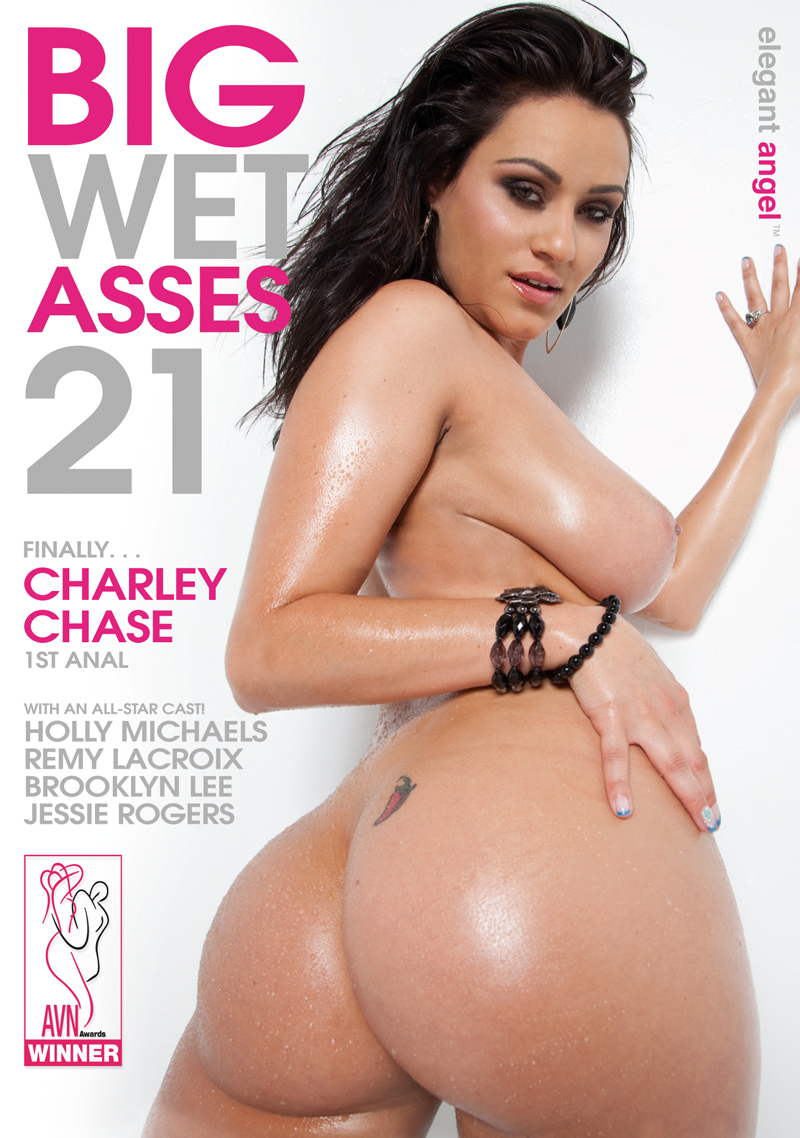 That's right, folks, Charley Chase is not only about to join the ranks of adult performers of anal sex, but she's landed herself the enviable position of being the cover model for Elegant Angel's upcoming Big Wet Asses 21! By a wide margin one of porn's most impressive anal series, Big Wet Asses has seen ass-stretching anal debuts from the likes of Gianna Michaels, Jayden Jaymes, Alexis Texas, and Sunny Lane; add to that list one of the most ferocious devourers or penis in the entire adult industry (Ms. Chase, of course) and there's no denying Big Wet Asses is the best place imaginable to find Charley opening up her rear passage for none other than Manuel Ferrara.
Clearly thrilled at the results of his latest anally-focused opus, director William H. spoke of his fondness for the joint-toking, smoking hot buttfuck debutant. "Charley Chase has always been one of my favorite stars to work with. I have never seen her look more curvy, and her scenes with Manuel have always been incredible. We're very honored Charley did this scene with us. Big Wet Asses is the one series we do that's all about the fans, and I hope they're happy with this cast." That cast includes some of Mr. Pink's favorite performers and while only Charley will be getting plugged for the first time, it'll be a treat to pop in that Blu-Ray disc come June 12th and prepare for the main event with assfuck scenes from Remy LaCroix, Brooklyn Lee, Jessie Rogers, and Holly Michaels. Then, finally, after months and months and months of teasing, tempting, and tantalizing her fans, it'll be Charley Chase's turn.
Finally!