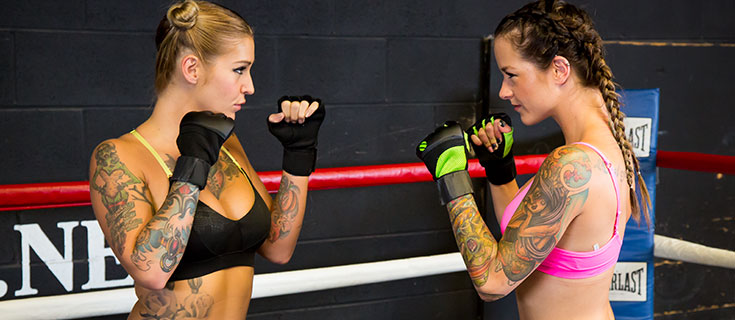 Burning Angel's head honcho, Joanna Angel, is known not only for her hardcore performances and heavily modified physique, but also for her deft handling of pop-culture properties many other pornographers would simply dismiss as too unsexy or unfilmable to bother trying to turn into a sexy onscreen romp. After tackling the Grinch, The Addams Family, The Jason Ellis Show, The ALS Ice Bucket Challenge, Z-grade alien movies, and Evil Dead, it's clear Ms. Angel and co. can turn any subject into hilarious and incredibly sexy alt.porn. It was only a matter of time, then, before the infamous director lent her hand to one of America's favorite (and most brutal) pastimes: mixed martial arts or MMA, specifically the remarkable achievements of undefeated UFC Women's Bantamweight Champion of the world, 'Rowdy' Ronda Rousey.
Casting fan-favorite mainstream crossover sensation Kleio Valentien as the 28-year-old Olympic medal winner and current world number one, Angel found a fighting fit champ all her own who could easily square up against any other woman in the business. For the flick she's calling Ronda ArouseMe, Angel also cast Arabelle Raphael, Derrick Pierce, Moe "The Monster" Johnson, and Sammie Sixx in the crucial role of Rousey's early rival "Miesha Taint" (as in Tate). And word, it seems, has been getting around. Not only has Angel's upcoming parody been previewed in mainstream press publications NY Daily News, Toronto Sun, Complex, AskMen, and Daily Dot, but Ms. Angel was interviewed personally by TMZ Sports about the production's origins and the fight-inspired moves learned by the cast in training.
Later speaking to AVN, Angel said she was overwhelmed by the attention. "It's been so exciting. I think all of Ronda's fans—and all of Kleio's fans—will love this movie. I'm trying to get it edited as soon as possible so everyone can see it. It will premiere on BurningAngel.com in the near future." Hey, Joanna, don't get me wrong, I'm loving your recent Burning Angel efforts (Making the Band and Uber Mistake especially), but this next super-graphic, boundary-pushing porno epic really can't come soon enough – and I'm not even a fight fan!
Until Ronda ArouseMe sees release via Burning Angel, you'll find teases and previews all over Joanna and Kleio's Twitter and Instagram feeds, which is where I found this image, just a little something to send every sport-bra-lover into a state of drooling incoherence. Have fun!